Luke's in danger when he confronts Phelan about Andy's disappearance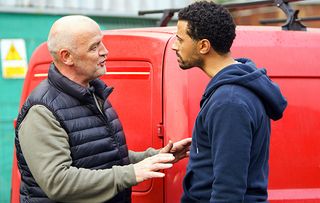 (Image credit: Mark Bruce)
Luke Britton makes a discovery that leads him to suspect Pat Phelan knows what happened to his mate Andy Carver…
When Andy went AWOL last year, Luke thought he'd got cold feet about starting a new life abroad with his sister Steph. But after finding a whole load of mail for Andy and hearing conflicting stories about where his mate went, Luke's now convinced something fishy has gone on – and he's right! Phelan held the poor man hostage before shooting him dead months later. So when the trail leads Luke to Phelan, the Weatherfield mechanic confronts the villainous builder and demands to know what became of his friend… Uh-oh! We don't think poisonous Pat is going to like that one bit… Is Luke in danger?
Luke susses that Pat knows something about Andy's vanishing act and confronts the Weatherfield villain…
Luke's week doesn't get off to the best of starts when he gets racist abuse from the Parker brothers who Alya and Aidan hope to do business with…
Seeing red, Luke ends up lamping the bigoted brothers and then finds himself charged with assualt at the local nick!
Meanwhile, Phelan's not happy with Seb for taking a job with Gary, but when the young lad apologises, he unwittingly walks into a trap…
At the cab office, Luke spots the little wire house that Eileen found and remarks how Andy used to make them…
Luke arranges to meet Andy's mate Matt in town, but arrives to find him in deep conversation with Phelan. What's he been saying?
With Phelan gone, Matt tells Luke that the builder made up the story about Andy backpacking. Smelling a rat, Luke goes to confront Phelan…
Elsewhere, it's Sinead's hen do at the bistro where Beth plans to show a video of her neice's childhood…
Daniel's told Chesney that he's swapped the DVD for some incriminating footage of him, so Ches is determined Sinead doesn't see evidence of his recent antics…
Chesney wrestles Beth for the DVD and sends her tumbling to the floor. If only he realised Daniel's told him a porky pie!
Carla's in two minds about staying in Weatherfield…
Carla decides to stick around, but she's hiding a big secret. Can Roy convince her to share it with her family?
Meanwhile, Rana tells Kate she's going to leave Zeedan to be with her, but will she go through with it?
After their Christmas hook-up, it looks like Steve and Tracy are an item - but for how long? Watch this and other stories in Coronation Street on ITV from Monday 1 January
Get the What to Watch Newsletter
The latest updates, reviews and unmissable series to watch and more!