Steve and Michelle struggle with losing baby Ruairi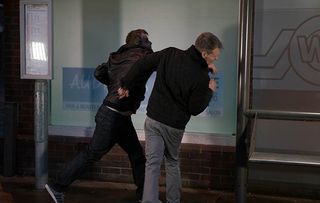 Steve and Michelle grow further apart as they try to get to grips with their son's death in Corrie
The death of baby Ruairi has sent shockwaves through the McDonald family in Corrie. As Steve and Michelle try to piece together what happened, their own grief is pulling them apart.
Unable to face the outside world, Michelle hides away in her bedroom. Steve doesn't know how to help, so drops by Streetcars for some distraction.
Struggling to find any peace, Steve loses it outside the cab office, punching Nick when he asks how the baby died. A horrified Michelle watches from her window... What's next for the heartbroken couple?
Nick is curious. Could Leanne's baby have the same genetic risks as Ruairi?
Selfish Nick asks a distraught Steve if he knows why his baby died?
Nick gets an answer... just not the one he was looking for.
Nick gets an answer... just not the one he was looking for.
Steve punches Nick in the face.
Peter tries to console a spiralling Steve. And soon discovers that Leanne's carrying Steve's baby...
Steve can't hold it in any longer... he believes Ruairi died because of his bad behaviour! Did he somehow cause this?
Meanwhile, Michelle is cutting Steve out and she asks Billy to the house to arrange Ruairi's funeral
Liz interrupts and is devastated to here that Michelle hasn't included Steve. Can she convince her daughter-in-law to reconsider? Watch the drama unfold on Coronation Street on ITV from Monday, January 16
Thank you for signing up to Whattowatch. You will receive a verification email shortly.
There was a problem. Please refresh the page and try again.