Style File: Corrie's Kylie Platt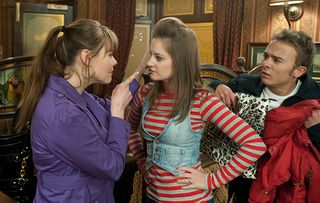 (Image credit: ITV/REX/Shutterstock)
As we prepare to say farewell to Corrie favourite Kylie Platt, we take a look back at her fabulous fashion sense...
We'll bid a sad farewell to Kylie Platt tomorrow. Our Coronation Street favourite won David's heart (after sleeping with his brother first!) and finally got rid of creepy Callum Logan. We take a look back at the outrageous and hilarious fashion that helped make Kylie the Weatherfield woman she was.
Hoodie Kylie
Kylie first appeared on our screens in 2010. Who could resist that blue jogging top? Gary Windass certainly couldn't when he copped off with her in the ginnel!
Zebra Kylie
Look how horrified Maria and Audrey were when Kylie turned up to work in the salon in this zebra print number. A corker!
Silver Lamé Kylie
Gail wanted to have a serious chat with David and Kylie about her questionable style choices. It didn't have much effect, because...
Velour Kylie
... Her sister Becky really took against her purple velour tracksuit in 2011.
St Tropez Kylie
We could hardly believe our eyes when David returned (via Benidorm?) with a bronzed Kylie wearing a chic gold tracksuit.
Victorian Strumpet Kylie
Kylie went for an 'understated' look for her wedding to David in 2011. A gothic burgundy corset and matching choker made for quite the blushing bride. Penny dreadful!
Clothes That Don't Fit Kylie
Remember when tiny waistcoats were in fashion? Us neither.
Clothes That Don't Fit Kylie
Remember when tiny waistcoats were in fashion? Us neither.
Stylie Kylie
Working in a salon requires a perfectly coiffured hairdo, like this gravity-defying bun Kylie sported in 2012. Audrey's peering in, desperate to hoik up Kylie's top.
Pole Dancer Kylie
Kylie took a part-time job as a stripper in 2012 (as you do) and opted for a pink and leopard print frock that left nothing to the imagination.
Fancy Dress Kylie
We're pleased to report that this wasn't a style choice - Kylie dressed as her icon Amy Winehouse for the Corrie Jubilee celebrations in 2012.
Friday Kylie
Friday is our favourite day, too! Although Friday, July 15, 2016, may be one day Kylie wishes she had stayed indoors...
Tiny Kylie
The waistcoat's back... and twinned with too-tight shorts and multiple necklaces! Not everyone call pull off this look
Business Kylie
Business Kylie opted for a severe black power suit with business bun and dramatic eye make-up. Let's go to work!
Maternity Kylie
Why wear one maternity vest when you can layer up with two?
Safari Kylie
This leopard doesn't change her spots... Two animal prints are always better than one.
Wear-Everything-at-Once Kylie
She's only gone and thrown the kitchen sink at it... Kylie and Gemma clearly enjoy BOGOF offers from Weatherfield Market.
Grown Up Kylie
Recently Kylie's been subdued with her style choices – like this understated denim shirt. What a shame she's only just started calming it down… We're going to miss you x
Get the latest updates, reviews and unmissable series to watch and more!
Thank you for signing up to Whattowatch. You will receive a verification email shortly.
There was a problem. Please refresh the page and try again.