Dancing On Ice 2011: Sam Attwater wins!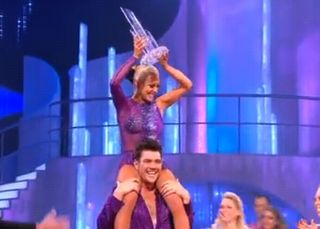 Sam Attwater has been crowned champion of Dancing on Ice 2011 after seeing off competition from Laura Hamilton in a closely-fought final. The former EastEnders star, who had been the bookies' favourite to take the title, triumphed after both he and children's TV presenter Laura had performed their version of Torvill and Dean's classic Bolero routine. Earlier in the evening TV presenter and model Chloe Madeley had finished in third place. Sam looked stunned after the result was announced - but quickly regained his composure to take the trophy - and hoist skating partner Brianne Delcourt on to his shoulders in celebration. Before hearing the result Sam thanked those involved in the show who had assisted him over the past few months - and paid particular tribute to Brianne. "It feels amazing and I have to say thank you to everyone who has been here and supported me," he said. "There are so many people here and I've had the time of my life down to them. I've made a friend for life and I wouldn't be here now at this point if it wasn't for Brianne." Laura was similarly enthusiastic about her time on the show and her skating partner Colin Ratushniak. "I want to echo what Sam said, it's been an incredible experience. To think that Colin and I could have been not part of this competition at all," she said, in reference to having found herself in the skate-off in her very first week. The result came after both had performed very different versions of the Bolero. Sam and Brianne injected a spot of passion into their routine, beginning it with a kiss and ending it sprawled on the ice with Sam clutching Brianne's breast - which he claimed to be accidental. However it didn't stop the judges from raving about the performance, with Jason Gardiner describing it as "captivating". "Everything that I would like to see from a Bolero," he said. "I believed that the two of you were passionately involved in some sort of a struggle. But most of all, you allowed time to breathe and to execute everything so that we could enjoy it with you, it was beautiful!" Laura's Bolero was a more low-key affair - but it still won praise from Jason. "It lacked the choreographic finesse of Sam's," he told her, "but that comes down to the inexperience we have with the two of you but overall you have been an amazing competitor." Earlier in the show Sam performed a showcase routine to the 80s hit Footloose which won him the first two 10s of the series. The 24-year-old dropped just half a point - receiving a 9.5 from Jason Gardiner - for a series best score of 29.5. "We've been waiting week after week for that charismatic Sam to show up. He showed up in abundance tonight," Robin Cousins told him, while Emma Bunton was similarly impressed. "You really showcased yourself as a real performer tonight," she said. "It's nice to see you can be that creative." Sam also fared well when he reprised his Riverdance routine from the 'round the world' themed edition of the show. "We are so lucky to have you on this show," Emma said, "I have watched you become an amazing performer." Laura, meanwhile, disappointed the judges with her first routine of the night, to Madonna's Express Yourself, scoring 26 out of 30. "It's such an iconic number," Jason said, "but unfortunately I didn't engage with it as much as I'd hoped." "Overall your performance is always brilliant, but for me tonight, it was missing that sexy Madonna feel. That's why I couldn't give you the ten," Emma added. However she came into her own when reprising her routine to the 80s hit I'm So Excited from a few weeks earlier. Having scored the highest mark of the series thus far when she previously performed the routine, Laura scored a perfect 30 out of 30 from the judges on this occasion - the only person to achieve a full house this series. And Jason was so impressed by the routine he actually removed his headgear - finally giving viewers a glimpse of his recent hair transplant. "Laura, I take my hat off to you," he said. "That was just incredible." The final also saw many of this year's past competitors - from Angela Rippon, Elen Rivas and Craig McLachlan, who failed to make it past the qualifying rounds, through to semi-finalist Johnson Beharry VC - return to the ice to perform one more time.
Get the latest updates, reviews and unmissable series to watch and more!
Thank you for signing up to Whattowatch. You will receive a verification email shortly.
There was a problem. Please refresh the page and try again.