Dancing on Ice: And the winner of the last-ever final is…Ray Quinn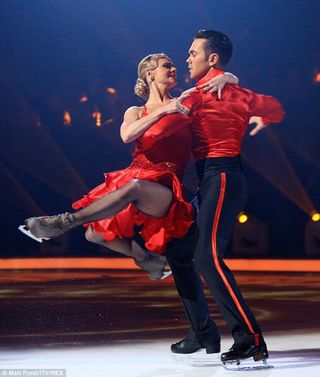 (Image credit: © Matt Frost/ITV/REX)
From the moment Ray Quinn (opens in new tab) paddled across the ice on a surf board in his first dance of the last-ever final of Dancing on Ice (opens in new tab) he had the title won: he was Champion of Champions.
Wearing just a pair of board shorts and his tattoos, Ray - with partner Maria Filippova - scored a perfect 40 with the routine.
"Hoo-Ray!" shouted juge Robin Cousins. "It's one thing to have bravado but you need to be able to back it up - and you can back it up."
"If I could, it would have been an 11 from me," beamed Karen Barber (opens in new tab).
"What's not to like?" grinned Ashley Roberts (opens in new tab). "It was hot."
"There are people who are talented and people who are stars," said Jason Gardiner (opens in new tab). "Ray, you are a star."
And all of that before they saw his second dance, the flamenco he danced in Week Four.
Ray and Maria carved up the ice in perfect synchronicity and Ray earned another perfect score of 40.
"Hoo-Ray! Olé!" shouted Robin Cousins (opens in new tab).
"It was a champion's performance!" said Karen Barber.
Ashley Roberts gave Ray a standing ovation.
And Jason Gardiner? He was almost - but not quite - speechless. "I sit here in awe of what you can do," he said.
Then came the Bolero. The Torvill and Dean routine all the skaters want to skate.
And, again, Ray didn't disappoint.
"That was one of the best Boleros we have ever seen," said Karen.
"I could watch you skate all night," added Ashley.
"To go down in history as the ultimate Dancing on Ice champion? Yes, please!" said Ray at the beginning of the final.
And he made history.
Get the latest updates, reviews and unmissable series to watch and more!
Thank you for signing up to Whattowatch. You will receive a verification email shortly.
There was a problem. Please refresh the page and try again.