Anton du Beke guest stars on Doctors: 'I've never watched it, but I'll be an avid viewer now!'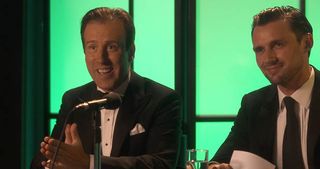 (Image credit: BBC)
Strictly Come Dancing's Anton du Beke talks to TV Times magazine about guest-starring in Doctors…
How do you feel about landing this guest role?
"It's a bit of fun, isn't it? I haven't in actual fact watched it before, but now I'm going to be an avid viewer! I hear it's great and has some good actors and guest stars. They had Lionel Blair on recently – there you are, showbiz in a glass!"
You will appear as yourself in next Friday's episode to judge a ballroom dancing competition involving Dr Daniel Granger (played by Matthew Chambers), who has been learning to dance with Toni (Esther Hall)…
"I'd love to have a go too – but they won't let me! Have I given them any tips? I just told them to relax – they were a bit tense!"
Do you think what they're doing is tough?
"It's one thing dancing on Strictly with a professional partner, but dancing with a fellow actor, that's hard and it isn't an easy routine either. They're dancing very nicely together – tremendous!"
What do you make of Matthew's dancing?
"He's a strapping chap, I think the audience would love him and I don't think any of the girls would mind dancing with him! He's gone for demure black today though and I thought: 'Wasted opportunity there – you could have had something more glamorous!'"
How did you find it being a judge for once?
"I've been thinking about that and it's shown how brilliant old Len [Goodman] is; he's the best judge on telly. You have two types of judge. Either the Craig Revel-Horwood and Simon Cowell type, who are so rude that you can't imagine how they get away with it, but they do because their personality allow them to. Then they come out with something nice and the world grinds to a halt because it has more impact when they say it.
"Then you've got other side – Len, who comes out with a funny line or turn of phrase. Anything in between those two ends of the spectrum is a bit grey and dull, so I think they've all got the whole judging thing down to a fine art. It's easy to say something like 'You danced very well, you could relax more or hold your head up a bit' but other than that I thought you had a great go'. Great information but essentially dull!"
So how do you make good information sound interesting?
"It's really difficult! Whether I'd be any good at it for real I don't know."
Simon Cowell and Cheryl Fernandez-Versini are returning to The X Factor. Are you worried what impact this might have on Strictly's viewing figures?
"I think them returning is probably good for their show. I know one thing: The X Factor is a better show with Simon Cowell on it. But I never get involved with the ratings battle because I never see The X Factor – I'm busy doing the best show on telly!"
How did you feel about Sir Bruce Forsyth leaving Strictly?
"Bruce has been a hero of mine since I was a boy watching him on telly. I just thought he was the greatest thing and he comes from a generation of entertainment that I like and I want to do. So when Strictly started, it was the biggest thrill when I heard Bruce was the host. Then a little way into it we did a song and dance number together, Me and My Shadow, and that's still one of the highlights of my career because it ticked every showbiz box for me.
"Working with him has been a joy and we've become friends. I saw him the other day to play some golf and he's happy with the decision, which is great. I just feel honoured that I can say: 'I spent 10 years working with Brucie, my hero.' It doesn't get much better than that does it?"
Get the What to Watch Newsletter
The latest updates, reviews and unmissable series to watch and more!