Is it all over for Lee and Whitney in EastEnders?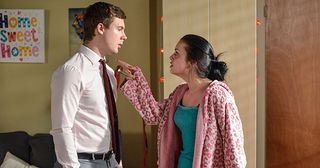 Lee Carter's strange behaviour has Whitney fearing for their marriage in EastEnders
They've only been married a matter of weeks, but it seems Lee and Whitney's marriage could already be heading for the rocks in EastEnders!
Unbeknown to Whitney, the cause of all the problems is Lee's serious debts, which he's determined to keep from his new bride. But how long can the truth remain hidden?
Her husband's behaviour finally becomes too much for Whitney and she decides to confront him
Earlier, Lauren confides in Johnny, revealing that she fears Lee's moodiness is down to her
In a bid to cheer up Lee, Whitney tidies up their new flat ready for his return from work
Lee is delighted, and the couple are soon heading to the bedroom
But, inexplicably, Lee's mood suddenly changes, and Whitney is left to ponder what on earth is going on
After chewing things over with Lauren, Whitney decides to plan another surprise for Lee
Later, Lauren is surprised when Lee tells her he is unable to make the drinks do that has been organised
When Lauren passes on the news to Whitney, she seeks an explanation from Lee
Whitney seeks comfort from Lauren again when she realises Lee has been lying to her about his whereabouts
It proves to be the last straw, prompting Whitney to confront her husband
It proves to be the last straw, prompting Whitney to confront her husband
She insists on being told what's behind his deception and strange behaviour
Will Lee come clean about his money problems? Watch the drama unfold on EastEnders on BBC1 from Monday, November 21
Get the What to Watch Newsletter
The latest updates, reviews and unmissable series to watch and more!