They live again! TV's 12 most famous resurrections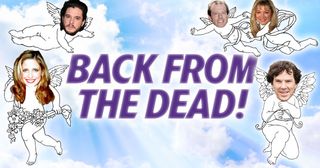 Apparently even death itself isn't the end for some of our favourite characters in TV-land. Check out TV's most startling returns from the dead, including Game of Thrones, EastEnders and, of course, Dallas
We all love a good comeback, especially when it's unexpected. There was dismay when Jon Snow was killed by his own men at the end of series five of Game of Thrones. Fans were up in arms and speculated how he could be reintroduced... Thankfully, he was.
But which other TV deaths caused horror, only for the characters to later return from their tombs? We've selected the 12 best comebacks...
JON SNOW, Game of Thrones (2016)
Game of Thrones fans were shocked when King Jon (Kit Harington) was betrayed and stabbed by his brothers of the Night's Watch in the series 5 finale, with Olly delivering the fatal knife blow. Jon's death sent shockwaves around the world, yet many fans were sceptical, believing he must return somehow. Sure enough, series 6 opened with Melisandre performing a mystical ritual over Jon's dead body, bringing him back to life in order to wreak vengeance on his would-be murderers.
KATHY BEALE/MITCHELL, EastEnders (2015)
A Walford original, Kathy (Gillian Taylforth) left the Square in 1998, hoping for a better life for her and Phil's young son Ben in the sunnier climes in South Africa. She met and married Gavin Sullivan, but in 2006 came the news that the couple had been killed in a car crash. Her ex, Phil, collected their son Ben, who along with half-brother Ian, mourned their mum's passing. Fast-forward to 2015 and Kathy is not only alive but begging Phil to let her back into her boys' life. Turns out her death was all part of an insurance scam cooked up by Gavin. Poor Ian was so shocked when he did finally see his dear departed mum that he walked into the path of a car…
SHERLOCK HOLMES, Sherlock (2014)
'My best friend, Sherlock Holmes, is dead,' said Dr John Watson as the tricksy finale to season two of BBC1's modern-day version of Sir Arthur Conan Doyle's classic story kicked off in 2012. Benedict Cumberbatch's legions of fans were immediately plunged into mourning as we learned the supersleuth had deliberately leapt to his death from St Bart's in front of the shocked ex-army medic. But grief soon gave way to intrigue when a flesh-and-blood Sherlock – unseen by Watson – appeared near his own gravestone. Social media networks went into meltdown as viewers speculated how Sherlock had faked the fatal leap. Answer? With great aplomb. But the detective wasn't the only one to fool viewers, cue Moriarty…
JIM MORIARTY, Sherlock (2014)
The season two rooftop scene at St Bart's also witnessed the 'suicide' of criminal mastermind Jim Moriarty (Andrew Scott) who shot himself in the mouth rather than abort his plan to kill Watson, Mrs Hudson and Inspector Lestrade. His action forced Sherlock to stage his own 'fatal' leap, but like the supersleuth, it seems Moriarty's death may well have been all smoke and mirrors. At the climax of series three in 2014 the supersleuth is sent on a mission in Eastern Europe only to be recalled minute later as TV screens across the UK Great Britain are hacked to broadcast a loop of a static image of Moriarty asking, 'Did you miss me?'
ROS MYERS, Spooks (2007)
Played with icy relish by Hermione Norris, Ros Myers was a fearless, ruthless operative in Section D who turned and became a double agent with the anti-American Yalta espionage ring. In series 6 Ros was exposed as a traitor and colleague Adam Carter helped her fake her death by injecting her with a poison which was actually a long-lasting sedative. She returned with a new identity in Russia in series 7, but died for real in an explosion in series 8.
DIRTY DEN, EastEnders (2003)
The iconic landlord of The Queen Vic, Dirty Den (Leslie Grantham) was shot dead by a daffodil-and-gun-wielding assassin in 1989 and spent 14 years in a watery grave. Only he wasn't. And he didn't. Fourteen years later, the very dry EastEnders ladies' man walked into Angie's Bar and stunned adoptive daughter Sharon with the words, 'Hello, Princess'. She couldn't believe it and, to be fair, viewers struggled with his reincarnation, too. The character was finally killed off in the show's 20th anniversary episode in 2005 when his cheated wife Chrissie clobbered him over the head with an iron doorstop.
FOX MULDER, The X-Files (2001)
Always certain 'life was out there', The X -Files Special Agent Fox Mulder (David Duchovny) eventually got his proof when he was abducted by aliens in 2000. A year later, FBI agents discovered his body in Montana and he was buried soon after. But his corpse was later exhumed amid rumours he'd been infected with an alien virus. The maverick was found to be alive – if very far from kicking – and his fellow X-Filer Dana Scully nursed him back to life…
BUFFY SUMMERS, Buffy The Vampire Slayer (2001)
The series 5 finale saw the vampire slayer sacrifice her own life by diving into the portal to the Hell dimension in order to save her younger sister Dawn from the clutches of exiled Hell God Glory. But all was not lost. After lying dead for 147 days, Buffy's pals brought her back to life using a powerful spell in the first episode of series 6. It wasn't all jubilation, though – Buffy returned in a state of deep depression as a result of being pulled back to Earth from Heaven
HAROLD BISHOP, Neighbours (1996)
In 1991, Harold Bishop (Ian Smith) was presumed dead after he was swept out to sea while walking on a coastal path. He returned to Erinsborough five years later, when Helen Daniels discovered him working in a Salvation Army shop, suffering from amnesia.
BOBBY EWING, Dallas (1986)
Surely one of TV's greatest-ever TV comebacks, Dallas' Bobby Ewing (Patrick Duffy), the youngest son of Jock and Miss Ellie, was murdered in a hit-and-run accident in 1985 only to re-emerge in a lather a year later when Pam awoke from a dream (yes, it had all been in her head) and found her husband alive and all too soapy in the shower. Nothing to do with the US series' slippery ratings…
REGGIE PERRIN, The Fall and Rise of Reginald Perrin (1976)
Who doesn't get fed up with their lot from time to time? It's only human. For Reggie Perrin, however, he couldn't stand his dreary commuter belt life any longer and decided to end it all... Walking into the sea in West Bay, Dorset, leaving only his clothes and briefcase behind. Except his suicide was staged in this classic 70s sitcom and Reggie returned to the world reinvented, first as a buck-toothed labourer on a pig farm!
CAPTAIN KIRK, Star Trek (1968)
Captain James T Kirk always had an awkward but respectful relationship with his Vulcan ally, Spock, but in an episode entitled The Enterprise Incident Spock is forced to use his Vulcan death grip when Kirk lunges at him after the starship is taken over by Romulans. McCoy declares him dead but, later, Kirk returns to life. It seems Spock only placed him in a state of suspended animation. Friends again.
Get the latest updates, reviews and unmissable series to watch and more!
Thank you for signing up to Whattowatch. You will receive a verification email shortly.
There was a problem. Please refresh the page and try again.