Denise gives birth in EastEnders!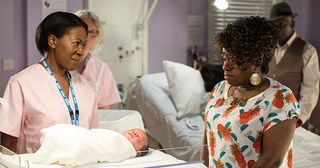 Denise Fox has a VERY bumpy week in EastEnders, but finally gives birth to Phil's baby...
The New Year hasn't exactly been fun for Denise Fox in EastEnders. She's pregnant with Phil's baby, contemplating giving the child up for adoption, and more than ready to give birth.
When Carmel throws her a baby shower this week, Denise shuts down the festivities with barely the crack of a smile. Her week deteriorates further when daughter Libby makes a surprise visit with the intent of staying for her sibling's birth.
Later in the week, the Minute Mart manager finally gets some good news, when she finds out she's to be induced. She heads to The Vic for Italian Night and shares her news with everyone. But after a week of her own revelations, Shirley has a very difficult question for Denise...
It's not long before the big day arrives for Denise, and Patrick goes with her to the hospital. Her half-sister Kim shows up and things get a little emotional for the mum-to-be. She's yet to fully decide what she wants to do when it comes to the adoption. Will she go through with it? Or will her newborn win her heart?
Shirley corners pregnant Denise in the toilets of The Vic. Mick has convinced her that Buster is the father of Denise's baby. Could it be true?
Honey and Carmel see Denise off as she gets ready to head to the hospital.
Patrick pushes past the well-wishers. He knows how anxious Denise is and wants to calm her down before it's time for her to be induced. They head to the hospital together in a taxi.
Kim shows up for support, but how will she feel when she finds out what Denise has planned?
Kim's an aunt, but will she actually get to know the new arrival?
Kim's an aunt, but will she actually get to know the new arrival?
Kim and Patrick finally find out what Denise has decided for the newborn. How will they react? Watch the drama unfold on EastEnders on BBC1 from Monday, January 9
Thank you for signing up to Whattowatch. You will receive a verification email shortly.
There was a problem. Please refresh the page and try again.