Adam Woodyatt: 'The EastEnders producer said one word to me about Lucy's death – Broadchurch'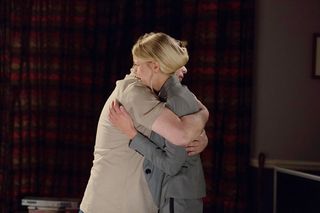 (Image credit: BBC/Jack Barnes)
EastEnders stalwart Adam Woodyatt has revealed the whodunnit storyline surrounding his on-screen daughter will try to emulate hit crime drama Broadchurch.
Viewers will see the actor, who plays Ian Beale, break down next week when the body of Lucy (Hetti Bywater) is discovered - sparking a murder hunt that will run into next year.
Adam revealed EastEnders' producer, Dominic Treadwell-Collins, sold the idea of the murder, and subsequent investigation, to him by comparing it to ITV's recent hit crime drama, starring David Tennant and Olivia Colman.
He said: "He literally just said one word to me and sold it to me and that word was 'Broadchurch'."
Dominic revealed he drew on his background in murder mysteries for the long-running soap storyline.
He said: "When I was little I read every single Agatha Christie book ever and worked out every single plot. My first job was Midsomer Murders and coming up with ways for people to die on Midsomer Murders."
Adam revealed he thinks any one of around seven cast members could be unmasked as Lucy's killer.
He said: "I've got motives for about seven members of the cast, I mean plausible motives."
Adam said he had changed his mind a few times after initially suspecting Lauren Branning (Jacqueline Jossa), her sister Abi (Lorna Fitzgerald) and their father Max (Jake Wood), who has been having an affair with the dead girl.
He said: "I know who it isn't. It can't be Rudolph (Walker, who plays Patrick Trueman). He was on holiday."
EastEnders bosses are censoring scripts to keep the cast in the dark and Ben Hardy, who plays Lucy's brother Peter, said his theory is that 'more than one person' was involved.
He said: "I'd be excited to play it, but I don't think Peter has got enough motive. I don't think it would fit the character."
Laurie Brett, who plays Ian's ex-wife Jane, said she is 'an outside shot'.
She said: "I've stopped trying to guess because it's one of those things you could start to tie yourself in knots with and I'm just so confident that I'm going to have the 'Oh my god' moment that I've actually just stopped trying to work it out."
Jacqueline, who said her character 'doesn't really have a reason' to kill Lucy, admitted she would enjoy playing the killer.
She said: "I kind of wanted it to be me because I think it would be cool, but I kind of don't think it is now so I'm a bit gutted."
She also hinted that her character will get closer to Peter in the aftermath of the murder of her best friend and his sister.
Get the latest updates, reviews and unmissable series to watch and more!
Thank you for signing up to Whattowatch. You will receive a verification email shortly.
There was a problem. Please refresh the page and try again.