Carmel gets a surprise 50th in EastEnders, but there's another shock in store, says Bonnie Langford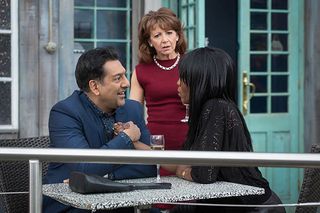 (Image credit: BBC/Jack Barnes)
Carmel has an unhappy 50th birthday in EastEnders (opens in new tab) when she thinks she's losing Masood to Denise! Bonnie Langford (opens in new tab) tells Soaplife the whole story…
So, how does Carmel feel about the big 5-0?
"She's sort of all right about it. It's empowered her to become this independent woman and she'd quite like to be noticed for that. There's part of her that thinks turning 50 is a milestone, but so much of her life has changed recently. There's an element of mixed emotions…"
And one of those emotions is anger when she sees Masood making a move on Denise at her party, right?
"She's not happy about it, so she just gets drunk. I love the relationship Carmel has with Denise [Diane Parish (opens in new tab)]. She doesn't necessarily want to be with Masood [Nitin Ganatra (opens in new tab)] any more, but she sort of does. She likes her freedom and yet she wants to be cared for."
Carmel wanted Masood for her birthday – but it looks like he wants Denise
What does she do?
"She gets drunk and leaves the party. She goes home and she pretends to ignore a lot of it. She chooses to not notice. She doesn't want to go there."
What sort of man is she looking for?
"She wants to widen her horizons from Masood. She wants to meet someone who can sweep her off her feet, literally, and so she joined the salsa class… not realising Kim [Tameka Empson (opens in new tab)] was the teacher."
Can you give us a few hints on what you've been filming recently?
"Carmel is very busy. She's really immersed herself in the community of Albert Square and she's getting more involved with the stall. She's busy in her own world just trying to keep her boys happy, Kush [Davood Ghadami (opens in new tab)] and Shaki [Shaheen Jafargholi (opens in new tab)]. At the moment, it's all about her finding her place in Walford and just chilling out in the summer, then becoming quite involved in the market."
EastEnders (opens in new tab), BBC1
Thank you for signing up to Whattowatch. You will receive a verification email shortly.
There was a problem. Please refresh the page and try again.