Danny Dyer: 'People say I'm a fake Cockney. Who Do You Think You Are proves I'm royalty!'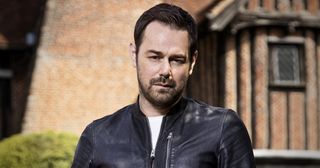 (Image credit: BBC/Stephen Perry/Wall to Wall)
EastEnders star Danny Dyer got the shock of his life on Who Do You Think You Are? when he found out he was related to English royalty and Thomas Cromwell
Danny Dyer may work in the Queen Vic in EastEnders, but never in his wildest dreams did he imagine he was actually related to the royal family! The actor makes an amazing discovery after taking part in Who Do You Think You Are? (BBC1, Thursday, November 24) he told us all about it…
You must have been thrilled when they asked you to be on the new series of Who Do You Think You Are and find out you are descended from royalty… "Yeah it was great. My career has taken a turn now thanks to EastEnders. They wouldn't have touched me a couple of years ago!"
Did you have any idea what they would uncover? "Not at all. It took them a year to come back to me and say they wanted to make the programme. Sometimes they come back and say they found stuff out, but it wasn't that interesting so they won't make an episode."
Do you know anyone who was approached, but didn't get a programme? "They approached Ray Winstone and he was well up for it. They came back and said 'sorry Ray, it's a bit boring'. He was fuming. I was expecting that as well to be fair. He'll be dead jealous, but he'd be proud of me."
What did they say when they told you they wanted to make a programme? "They came back to me all excited so I thought 'let's go for it'. I didn't know what they knew though, I learned with the audience. I was completely out of the loop with it. To think where it led, it was unbelievable."
What were you hoping to find? "I was brought up by women, so I've had lots of strong women in my life, but I wanted to find a strong man. And f*** me, I found one."
You learned that you were related to medieval English King Edward III, but also Thomas Cromwell, Henry VIII's most powerful advisor. How did that feel? "I was gobsmacked. Thomas Cromwell has become really relevant again because of Wolf Hall and he is an absolute legend. I've explained to my family about Thomas and they're like 'Who the f*** is that?' When they see the show they'll get it. They've heard of Henry VIII and Edward III. People can't believe it, just like I couldn't believe it."
Did you watch Wolf Hall once you found out you were related to Thomas Cromwell? "I watched all six episodes in one night and then read the books! It's weird reading it and knowing he's your relative, that you're a direct descendant, because he was a genius. What a man. He came from nothing and rose all the way to the top, just like me. What a man! It was horrible to read about Cromwell's demise. You don't think you'll be connected to it because it was hundreds of years ago, but you are. He was an underdog and that's exactly what I am."
He held a special title in his life that's very close to your heart as well… "He was the Earl of Essex, so I'm hoping I'll be made the Earl of Essex when this comes out! I can bowl about an Earl. Don't know what I'm entitled to. I can't wait to get my crest on the wall. Maybe I'll get myself a coat of arms!"
Do you feel royal? "No. But I am royalty. My wife loves it. I wasn't supposed to tell anyone, but I told everyone. How can you not?"
Mark Rylance played Thomas Cromwell in Wolf Hall, have you ever worked with him? "Funnily enough I did when I was 17. He was a mentor to me, I worked with him for a month at my drama school. I'd like to play Cromwell. It's the one role I want to do. And I think I'm entitled to!"
Has finding out you are related to royalty changed you at all? "A little bit. I have a bit more confidence. I understand why I am who I am. Why I'm famous, why I'm destined for this path. It's because I've got this blood in me."
Do you think other people will see you differently now? "It'll shut a few of my critics up though, I know that much. Yes I'm from a working class background. Yes I'm crass and swear a lot. But I am related to royalty, so they can f**king stick that up their f**king arses. Especially Mark Kermode."
What about the press? "It will be interesting to see what the press say. Hopefully it will stop all this s*** about me being a mockney, I get that a lot. That I'm a fake cockney. This proves I'm clearly not. I'm royalty, but I am from the manor and I'm proud of it."
How about your friends and family? "Some of my friends have started calling me Your Highness, which is quite funny. Laughable really. No one's seen it yet though, so when they do it'll be interesting to see their reaction. My wife's over the moon. She reckons she's royalty, but I told her she's not royalty – I am. She's marrying into royalty!"
Maybe you could get the wedding switched to Westminster Abbey? "Maybe I could. My relative built the gaff after all! Westminster Abbey was absolutely amazing. I went up there to see the crypt of Edward III and it blew me away. I thought Cromwell was enough, let's not push our luck, but Edward III and William the Conqueror!"
This means you're distantly related to the current royal family… "I don't know how the royal family will react to it. Maybe I'll get a Christmas card from them? I reckon me and Harry will get on like a house on fire."
Sean has been writing about all things telly for over 10 years and in that time he's been lucky enough to interview stars like Ian McKellen, Tom Hardy and Kate Winslet. His favourite shows are The Great British Bake-Off, People Just Do Nothing and Succession and in his spare time he enjoys drinking tea, doing crosswords and watching football.
Get the latest updates, reviews and unmissable series to watch and more!
Thank you for signing up to Whattowatch. You will receive a verification email shortly.
There was a problem. Please refresh the page and try again.