Denise is horrified by Lucas's escape plan in EastEnders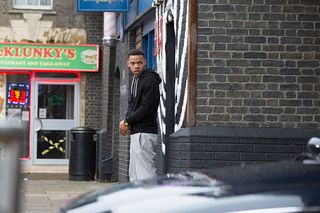 (Image credit: BBC/Jack Barnes)
Getting back in touch with her ex-hubby Lucas has turned Denise's life upside down. But while the twisted serial killer still sends shivers down Denise's spine, at least she can comfort herself with the knowledge that Lucas is currently being detained at Her Majesty's pleasure. But for how long?
After taking a suspicious phone call, Jordan tells Denise that Lucas is planning to escape from jail, and wants to flee abroad with them
Appalled by the bombshell news, Denise pretends to go along with the idea, but frantically scribbles a note warning of the imminent escape
As Denise leaves for a family meal, she secretly sticks her note on her daughter Libby's bag
The note makes it clear Denise wants no part of Lucas's plan – but will it be acted upon?
Jordan soon realises Denise has no intention of going abroad, and is warned by his stepmum not to get involved with Lucas. But will he listen? Watch the drama unfold on EastEnders from Monday 7 March
Thank you for signing up to Whattowatch. You will receive a verification email shortly.
There was a problem. Please refresh the page and try again.