EastEnders' Adam Woodyatt bites back at Lord Sugar after he tells him to go on a diet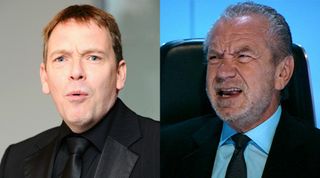 Lord Sugar and Adam Woodyatt from EastEnders (AKA Ian Beale) have continued their bizarre Twitter spat, with Adam ribbing his friend about looking overweight in a snap.
The Apprentice boss posted a picture wearing his new Piaget watch, but Adam was quick to point out the strap was looking a little tight.
Strap looks a bit tight @Lord_Sugar have you put some weight on?
— Adam Woodyatt (@AdamWoodyatt) October 13, 2015
Adam got his own back after Lord Sugar sent a series of tweets criticising the actor's weight that earned him a backlash on the social media site for body shaming.
On October 12, Lord Sugar went on a odd rant at Adam, telling him to go on a diet, calling him 'heart attack material' and accusing his dressing room of having a permanent smell of curry early in the morning.
.@AdamWoodyatt I have been watching you. Regret to say you need to go on a better diet. You look like heart attack material. SORT IT!
— Lord Sugar (@Lord_Sugar) October 11, 2015
In respect of your diet @AdamWoodyatt I hear when you start filming early there's a smell of curry from your dressing room . Cut that out
— Lord Sugar (@Lord_Sugar) October 11, 2015
After the story was picked up in the press, The Apprentice boss went into overdrive, defending his comment as a joke between old friends and telling concerned tweeters to 'shut your trap'.
Shut up I am having a joke with my friend https://t.co/QtP5gM8sOP
— Lord Sugar (@Lord_Sugar) October 11, 2015
Shut your trap https://t.co/bYuz31u5ms
— Lord Sugar (@Lord_Sugar) October 11, 2015
We wait in anticipation for Lord Sugar's next response.
Get the latest updates, reviews and unmissable series to watch and more!
Thank you for signing up to Whattowatch. You will receive a verification email shortly.
There was a problem. Please refresh the page and try again.