EastEnders' Danielle on Lola's big birth day!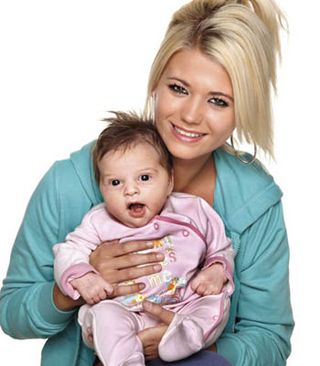 (Image credit: BBC)
EastEnders' Danielle Harold reveals to Soaplife that she's going to only get one go at having Lola's baby girl when the moment goes out LIVE as part of EastEnders' Olympic episode special! Lola's about to have her baby and in true soap style it's an unconventional labour. Danielle hasn't filmed the birth yet because it will go out live to tie in with Billy's big moment carrying the Olympic torch through Albert Square. "I'm terrified," Danielle tells Soaplife. But she's well up for the challenge! When does Lola realise that her baby's on the way? "She's sitting in Derek's car chatting to Jay when her waters break. She runs off because she's scared and doesn't know what to do. She thinks the labour will last ages and goes to McKlunkeys to get some chicken. But she starts having strong contractions while she's there." But she won't let anyone call her an ambulance! Why? "Lola's broken her curfew and she's worried the police and social services will come and take the baby from her." But it's Cora who turns up and takes charge. Is Lola relieved? "No, because she wants to be on her own. She doesn't want Cora looking at her bits down there." How do you feel about acting out the actual birth live on TV? "I'm terrified! I'd rather have a baby in real life than do this live! But it's a once-in-a-lifetime opportunity and it is nice of them to trust me with it. We've already filmed the lead-up to the birth and I was knackered after screaming and crying and pretending to push all day." Has Lola given much thought to being a mum? "No. All through the pregnancy she's been in denial and tried to forget she's having a baby. But I think she'll be a really good mum. She's never had a mum herself and she'll be there for Lexi, the name she gives her daughter - Lexi Billie." How does she feel when Lexi is born? "Lola's terrified to pick her up because she looks so small and fragile. She does get a little bit, 'I can't do this. I don't know what to do…' and makes Billy do everything. But then he says, 'You're doing it on your own now' and that's when she steps up to the challenge." Why won't she name the dad? Is it Ben? Jay? "Lola doesn't want him or his family involved." Who will Lola turn to for support? "Billy and Jay. Billy's the only person who has stuck around for her and she loves him to bits. They form a little family. Billy's now a great-grandfather and I really take the mickey out of Perry [Fenwick, who plays him]. I bought him a blow-up Zimmer frame for his birthday!"
Get the latest updates, reviews and unmissable series to watch and more!
Thank you for signing up to Whattowatch. You will receive a verification email shortly.
There was a problem. Please refresh the page and try again.