EastEnders' Harry Reid: 'I couldn't believe it when I heard Kathy was back to face Ben. I struck lucky!'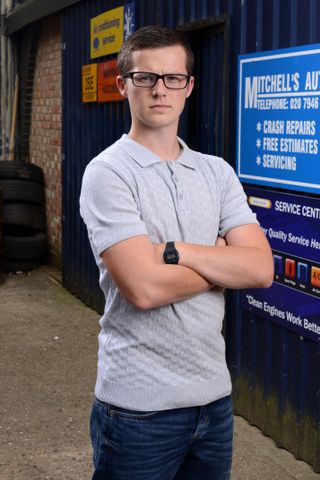 (Image credit: BBC/Kieron McCarron)
Kathy Beale has appeared twice in EastEnders already this year, very briefly for scenes with her ex husband Phil Mitchell, but she'll be back in the soap as a regular character again this summer.
Both her sons, Ian Beale and Ben Mitchell, still believe she died in South Africa some years ago, so when Kathy (played again by Gillian Taylforth) does finally come face to face with her family, as she will in the next few months, it's going to be a enormous shock, and possibly one of the most dramatic reunions in EastEnders history.
"I can't wait for it to happen," said Harry Reid, who plays Ben. "I couldn't believe it when I heard Kathy was coming back to face Ben. I struck lucky, didn't I?
"I've been thinking about this a lot and I've talked to my own mum about it. How would you react? You think your mum's been dead for 10 years and then you see her walk in the door."
Harry warned that Ben's reaction won't be hearts and flowers.
"I feel there'll be more anger in Ben because of the lies and deceit that's gone on," he said. "Ben wouldn't be the person he is today if his mum hadn't have died because he was a little boy who didn't say boo to a goose then. Because he spent a few more years with Phil as his dad he finds himself in the nick twice and he's become a very troubled and confused lad.
"I know nothing about the story yet, which I like, so I get the surprise of it. It's going to be interesting how they're going to explain it all, but I think it's going to be explosive. I don't think everybody is going to take Kathy into their lives again, and it's going to be interesting to see the difference between Ben and Ian, too, in how they deal with it."
But Harry's looking forward to working with a classic EastEnders star like Gillian: "I met [her] at the live show after party in February and at the Soap Awards recently – and she's so lovely. I don't think anyone ever thought Kathy would come back. It was the biggest injustice ever in EastEnders, killing Kathy off screen. We never saw the body, however, so to be playing Ben and have this storyline pop up I'm laughing. And to work with Gillian is a dream."
Get the latest updates, reviews and unmissable series to watch and more!
Thank you for signing up to Whattowatch. You will receive a verification email shortly.
There was a problem. Please refresh the page and try again.