EastEnders' Jake Wood: Why Max is a changed man!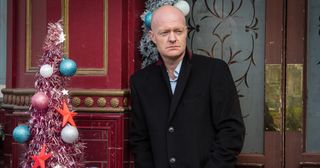 (Image credit: BBC/Jack Barnes)
With Max Branning set to make a dramatic Christmas Day return to Walford, dad of two, Jake Wood who plays him, reveals why he needed a break from EastEnders, how he spent his year off and why Max is a changed man….
We saw Max briefly back in May when he was released from prison and returned to Walford to post a letter through the Beale's door. What's he been up to since then? "Well Max has got out of prison and he disappeared for a bit and then he returns, he's a changed character. We'll find out just how much as we go along. Prison has had a big effect on him. He's very different from when we last saw him and I think viewers will be surprised and excited about the changes. The reaction he gets will be interesting!"
So why has he decided to come back properly now? "The viewers will have to wait and see."
How will the residents react to Max's return? "I'm not sure how welcome he'll be at first, especially by the Beales! Some people will be happier to see him than others. I hope his daughters will be pleased to see him, and hopefully his brother Jack too."
Can you talk us through his relationship with Lauren and Abi at this point? "A little bit fractured! Things are better between Lauren and Max than Abi and Max. Hopefully Abi will come around. Max is a changed character so hopefully the girls will see that."
Do you think Max could ever forgive the Beales for what they did? "If he's going to live on that Square they will have to come to some sort of understanding, put it that way. I think it's really up to Max whether he forgives them or not. He spent all that time in prison as a result of them lying in court. So it depends how Max feels and how much he's changed."
Do you feel you've come back to a very different show? "There are always slight differences when there's a change of boss. I think it is really exciting that we've got Sean (Sean O'Connor, executive producer). I really like him and I like his ideas for the future. I think the feel of the show is changing. I saw a couple of episodes last week and the way it looks was more filmic and beautifully lit. It seems to be more character based, which as an actor is when it's at its best. There are really good positive changes ahead."
Is there anyone in the Square you think Max would be a good match for? "Well Max has changed so will he go back to his old ways? Let's wait and see."
Why did you decide you needed a year off from EastEnders? "I did nine years here without a break and as everyone knows the schedules can be very demanding. I have a young family, it was off the back of Strictly. Doing Strictly was an amazing experience but I was doing EastEnders at the same time so that was crazy, crazy, hectic and I was just exhausted and worn out so that was one side of it.
"The other side is that it gives my character a break, a reboot and refresh. I love EastEnders and I want to be here long term so for me it was positive in both respects. I got a break and spent amazing family time for that year and I think Max has come back refreshed. I also think the writers are excited writing for him again, so for me that is very positive as well."
You've got two young children, Amber, 11, and Buster, 8. What did you do in your year off? "I was just being a dad and being at home: I made 100 per cent use of it. I did every school run, watched every school production and went to every sports day. I just engrossed myself in family life. I knew I was coming back to EastEnders so there was no pressure. I got offered bits and pieces of work, but for me I didn't want to do much, it was about spending time with my family. I felt very, very lucky to be in that position as a dad so it was an amazing year."
Did you manage to get anywhere sunny or go travelling? "We went to Turks and Caicos in the Caribbean in the summer, and Sicily too. I've got family in France. If someone called me up and wanted a weekend away, I could just go and I hadn't been in that position for nine years where my time is my own. It was lovely, I just enjoyed life."
Were people constantly asking you when you were coming back to EastEnders? "No not really, the attention died down when I wasn't on screen. Now people are excited about Max coming back and want to know what he's been up to so I'm getting more of that now. I'm glad people are excited to see him back."
Are you watching Strictly this year? "Yes I am. I'm really enjoying it. I went to see the recording a few weeks ago and when you see it live you really see the footwork and how clean it is. Claudia for me was definitely head and shoulders above everyone else so I hope she wins."
And you did the Strictly tour early this year, how was that? "It was a lovely opportunity to dance with Janette (Manrara) again so that was an amazing experience. It is weird now because I know the dancers so I'm watching the TV show from a different perspective and supporting them. It's an amazing show, it just goes from strength to strength."
What are you doing for Christmas? "Just a family Christmas at home with the children."
Have you done your Christmas shopping? "No. I will be running round on Christmas Eve sweating with the rest of them."
Do you have a favourite EastEnders Christmas moment? "Personally it would be 2007 with the Max and Stacey affair reveal. It was a highlight for us as the Branning family and I still look back on that with fond memories."
What's it like filming Christmas at EastEnders? "It goes on forever! We've had months of Christmas before we get to the real thing. It's lovely though. It feels so magical and the Square always looks great, especially at night when it's all lit up. It gets you excited for the real thing."
If you could give Max any Christmas present, what would it be and why? "In days gone by it would have been a bottle of whiskey, but that might have changed now. It would probably be a cuddle. I think he needs a big cuddle after the last year."
What was you first day of being back on set like? "It was like putting on a comfy old pair of slippers. I eased straight back into it. A lot of the crew are the same so it's just like coming home."
What did you miss the most while you were away? "I missed the routine of coming to work and spending time with the people here, so just that sense of being part of the EastEnders family. I like routine and I like working hard."
Can you give us a tease what might be in store for Max? "He's a changed character. I think at certain times the audience might know more about Max than those around him. I think it's going to be incredibly exciting."
Watch Max's return to Walford on Christmas Day, EastEnders, BBC1.
Get the latest updates, reviews and unmissable series to watch and more!
Thank you for signing up to Whattowatch. You will receive a verification email shortly.
There was a problem. Please refresh the page and try again.