EastEnders' Khali: 'Dexter will do what he needs to do for Sam'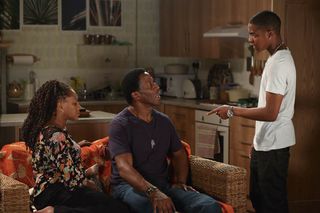 (Image credit: BBC/Jack Barnes)
EastEnders star Khali Best reveals to Soaplife that Dexter's ready to risk his own life to save the father who abandoned him…
What's wrong with Sam, Dexter's father?
"He's got diabetes. He collapses in the street and the family discover he needs a kidney transplant urgently. After talking to Ava, Dexter realises how serious it is. His dad could die. This puts it all into perspective about what it means to have his dad in his life."
Does Dexter immediately decide to be tested as a transplant match?
"No. But he starts to think about it when he hears that his mum is going to take the test to see if she is compatible. Ava and Sam are not genetically linked, but Dexter and Sam are so it's more likely that he'd be a match."
He doesn't discuss it with his mum, though… Why?
"He doesn't want her to worry. He has conversations with different people about the stress of it all and going under the knife. He has a heart-to-heart about it with Jay."
But his mum does find out and tries to talk him out of having the test… does she succeed?
"No. Dexter has his own moral barometer and will do what he needs to do for the sake of his new-found family. I think he's got the tools in the box to do the right thing…"
Get the What to Watch Newsletter
The latest updates, reviews and unmissable series to watch and more!