EastEnders: 'Make it better, Mum!' rapist Dean begs Shirley. And how will she do that?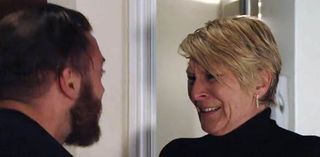 It was a heart-stopping moment in EastEnders last night, when Shirley (Linda Henry) caught her son, Dean (Matt Di Angelo) trying to do to Roxy what he did to Linda (Kellie Bright).
And there's another heart-stopping moment tonight, when Dean pleads with Shirley for help.
Now what's Shirley going to do? Can she go on ignoring the truth about her rapist son?
"I don't know how to help you," Linda sobs, after Roxy (Rita Simons) has fled from the bedroom.
Shirley weeps as she's faced with the ugly truth about her son, Dean
"How about you stop patronising me!" Dean shouts at her. "How about you step up and put me first! Me! Not Mick, not Buster (Karl Howman), not Jade."
"Jade is your daughter," Shirley replies, shocked.
"And I am your son!" Dean wails. "I am your son so just be my mum. Please be my mum!"
"Stop it!" Shirley pleads with Dean. "Just stop it!"
But Dean can't control himself…
Dean tells Shirley she's the one at fault
"Why was I never good enough for you?" he cries. "Why? What did I do so wrong? Why was I never good enough for you, ever?
"You're supposed to be there, no matter what. You're supposed to care about me no matter what.
"What is so wrong with standing by your own son? Just please, please I am begging you, make it better. Please make it better, Mum. Please!"
"Okay," Shirley tells Dean, as she holds him close.
Dean begs Shirley for help. What will she do?
But how will Shirley do that?
How can Shirley ease Dean's pain? Will she choose him again over Mick (Danny Dyer) and the rest of her family?
Or will she choose her family by ending Dean's misery - permanently?
EastEnders continues on Tuesday, December 29, 7.30pm.
Get the What to Watch Newsletter
The latest updates, reviews and unmissable series to watch and more!