EastEnders shock: Maddy Hill and Himesh Patel, who play Nancy and Tamwar, have quit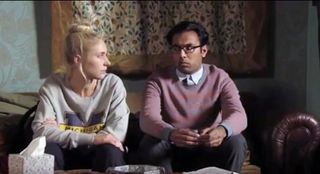 It has been confirmed that Maddy Hill (opens in new tab) and Himesh Patel (opens in new tab), who play Nancy and Tamwar, have quit EastEnders and have filmed their last scenes.
Maddy has played Nancy since January 2014, while Himesh has been with the soap since October 2007.
Onsceen, Nancy and Tam, who were a couple, split up last month. Whether or not they leave as a couple or go their separate ways is yet to be revealed.
Nancy and Tamwar split up last month. But will they be reunited?
But EastEnders reps have told the Mirror that they have filmed their final scenes, which will air in the next few weeks.
As the news was announced, Maddy said: "It was time for Nancy to take a break from her family and me from EastEnders after having a wonderful time working on the show."
"I was surrounded by a terrific team both on and off camera and I shall miss seeing them all on a daily basis, especially the fabulous Carter family."
Himesh commented: "I'm looking forward to new challenges, perhaps on the stage or behind the camera. Whatever awaits me, I'll miss my family at EastEnders immensely - they've watched me grow from boy to man and supported me every step of the way."
Nancy is about to find herself in a very dark place after the family is told that baby Ollie could have brain damage following an accident when she pushed brother Lee (Danny-Boy Hatchard (opens in new tab)) into Ollie's high chair during a fight.
Nancy was horrified when she saw baby Ollie knocked to the floor
In upcoming episodes, Linda (Kellie Bright (opens in new tab)) is going to find Ollie not breathing in his cot. Linda manages to revive him, but then the little boy has a seizure. He's rushed to hospital, where doctors deliver the devastating news to Mick (Danny Dyer (opens in new tab)) and Linda.
A scan shows Ollie has bleeding on his brain after a blow to his head – the nasty bump he got when his high chair was knocked over.
Mick blames Nancy for Ollie's serious injuries. Will he throw her out?
And, distraught over Ollie's injuries, Mick tells his mum, Shirley (Linda Henry (opens in new tab)), that he blames Nancy for what's happened.
With Nancy now leaving, it sounds like the Carter family is going to fall apart…
Does Nancy get support from her ex, Tamwar as Mick gives her the cold shoulder?
"I really wanted us to work," Nancy told Tam, when they split up.
Maybe now they will…
EastEnders (opens in new tab) continues on BBC1, Monday, March 14, 8.00pm
Thank you for signing up to Whattowatch. You will receive a verification email shortly.
There was a problem. Please refresh the page and try again.