EastEnders shock report: Ross Kemp will return to EastEnders as Grant to save Phil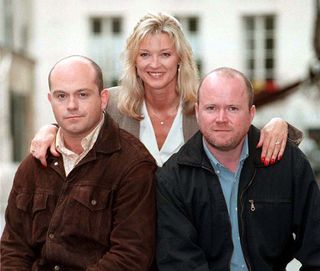 (Image credit: EMPICS Sports Photo Agency)
EastEnders boss Dominic Treadwell-Collins (opens in new tab) has made no secret of the fact that he wants actor Ross Kemp (opens in new tab) to bring his Grant Mitchell character back to EastEnders.
And now it looks like it's happening…
According to reports today, Grant will storm back into Albert Square early next year in a desperate to bid to save his alcoholic brother Phil (Steve McFadden (opens in new tab)), who has fallen off the wagon - hard - following his brutal beating at the hands of vicious gangster Gavin Sullivan (Paul Nicholas (opens in new tab)).
"The fact that you've got Phil, Kathy [Gillian Taylforth (opens in new tab)], Sharon [Letitia Dean (opens in new tab)]…there's a person missing, isn't there?" says Dominic. "To get all four on screen at the same time is a dream. As an EastEnders fan, you want to watch that."
And he has been in contact with Ross to talk about a return, 10 years after he left the soap.
As they were… Grant, Kathy and Phil
"Dominic has been quite encouraged by the response," and insider has told the Mirror.
Phil certainly needs help from someone, as viewers will see this week.
He falls back into Albert Square in Monday's episode a bloodied and broken man - but he refuses to talk about what Gavin did to him.
On Tuesday, Phil collapses and is rushed to hospital. The police turn up but he sends them away. He does have a heart to heart with Sharon but still won't reveal exactly what happened to him.
Phil is going to need a lot more than a kiss from Sharon to get better
It's his son Ben (Harry Reid (opens in new tab)) who finds Phil struggling to come to terms with everything that has happened to him.
Just what did Gavin do?
Whatever it was, it sends Phil back to the booze - and that's never going to end well.
Will Grant be his saviour?
Ross has been making award-winning documentary series since he departed EastEnders.
But on a return to Walford, Ross recently said: "Yeah, if it's the right time, definitely. Why not?"
And who knows? He could bring Peggy (Barbara Windsor (opens in new tab)) back with him…
If Grant's coming back for Phil he could bring mum Peggy, too…
EastEnders (opens in new tab) continues on BBC1, Monday, October 26, 8.00pm.
Get the latest updates, reviews and unmissable series to watch and more!
Thank you for signing up to Whattowatch. You will receive a verification email shortly.
There was a problem. Please refresh the page and try again.