Eliot Carrington: 'Bobby being the EastEnders killer is brilliant!'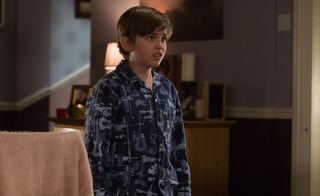 (Image credit: BBC/Jack Barnes)
It's been revealed that Eliot Carrington was delighted when he discovered his EastEnders character Bobby was to be unveiled as Lucy's killer.
The soap's bosses said that the angel-faced 12 year old beamed with delight and said: "That's brilliant. Oh my God that's so clever – it makes so much sense."
At the end of the flashback episode on Thursday night, nearly 12 million viewers saw Jane crouching over Lucy's body and Bobby telling her: "Whatever she says, she started it. She made everyone unhappy."
Dominic Treadwell-Collins, the soap's Executive Producer, said: "I sat him down and said, 'Bobby's going to be a naughty boy' to gauge his reaction and he said it was brilliant.
"We also sat down and had a very long conversation with his father to see if he was okay with it. If he had said 'no' we would have had to recast. I told Elliot on Monday and he immediately beamed."
In last night's live episode it emerged that Bobby thought he had only injured Lucy and had been convinced by Jane that Lucy had been murdered by someone else hours after he hit her over the head with her jewellery box.
"I told Eliot that Bobby didn't know and he said, 'Oh that makes sense as well'," added Dominic. "He's a very intelligent little boy and very emotionally mature.
"The fact Bobby doesn't know he did it is very important, I wouldn't lumber a little boy with that."
Dominic also responded the the backlash from viewers who have complained about Bobby being unveiled as Lucy's killer. While some fans reckon they were misled because the youngster wasn't on the list of suspects, others have said it was unrealistic.
"It's Marmite," said Dominic. "I think all the best and biggest stories are Marmite. We had another suspect in mind at first and it was someone outside of the family and it was all a bit too serial killer, and that wasn't right.
"EastEnders is all about families and it's about kitchen sink drama and what would you do. I said from the start that it's got to be emotional and come from the heart. It's about a family sitting round, saying, 'what do we do?'
"We knew very much from the start that it would be Bobby. A serial killer wouldn't have been right. All the best stories have to be controversial. You can't please everyone."
Get the What to Watch Newsletter
The latest updates, reviews and unmissable series to watch and more!