First ever episode of EastEnders to be shown!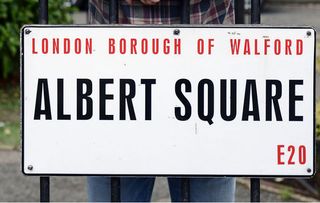 The first episode went out on 19 February 1985
The first ever episode of EastEnders will be screened this Monday on Drama.
Billed as Classic EastEnders, Drama will screen the episode, which originally aired in February 1985, at 12 noon.
Back in 1985 of course, EastEnders was a brand new soap and no one knew if it would last…
The first episode sees Den, Ali and Arthur break into Reg Cox's flat and Leslie Grantham's Den utters the immortal line: "Cor, stinks in 'ere, dunnit?"
Leslie Grantham, who played Den Watts, died in June aged 71.
After finding Reg, Den raises the alarm with Doctor Legg, played by Leonard Fenton. Den then calls an ambulance using a bulky phone - no mobiles for everyone in 1985!
Doctor Legg is of course returning to Albert Square this autumn.
June Brown, who plays Dot Cotton, is thrilled her pal Leonard is coming back to the soap, saying: "It's been eleven years since Dot last visited her favourite doctor, Doctor Legg, and it's an utter delight to be working with Leonard Fenton again in 2018."
The first episode will then be followed by episode two, which sees Den and Agie celebrating their anniversary. We're sure those two will live happily ever after… erm!
Classic EastEnders is on Drama.
Get the latest updates, reviews and unmissable series to watch and more!
Thank you for signing up to Whattowatch. You will receive a verification email shortly.
There was a problem. Please refresh the page and try again.