Heartbroken Shabnam concocts a crazy plan in EastEnders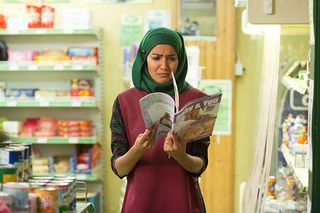 (Image credit: BBC/Jack Barnes)
It's been a traumatic few weeks for Shabnam (Rakhee Thakrar) and Kush (Davood Ghadami) in EastEnders (opens in new tab) since they suffered the loss of their baby Zaair. Shabnam's struggling to keep it together and her best friend Stacey (Lacey Turner) is bearing the brunt of her sadness.
Shabnam is furious to learn that a pregnant Stacey is considering missing her baby scan appointment. After some harsh words, Stacey attends the appointment and then visits Shabnam to clear the air. But poor Shabnam's torment gets worse and culminates in a breakdown in the Minute Mart. Kush urges her to face her loss, but just when it seems like things might be moving forward, Shabnam reveals that she wants to raise her daughter Jade, who she'd previously put up for adoption. Kush warns her against the idea, but Shabnam talks to the social worker anyway.
We're not sure it's the right move for Shabnam, but will she change her mind before she sets the wheels in motion?
Following the tragic stillbirth of her son, Shabnam has been trying to return to a normal life, but things have been made worse by the fact that her friend, Stacey, is pregnant. Shabnam can't avoid seeing things about babies and it all becomes too much when she goes back to work.
She can't avoid things about babies for ever, but emotions are still raw… spotting a mother and baby magazine on the shelf in the Minute Mart, she grabs it and rips it to shreds.
Kush is there to comfort his fiancée, as only they know what it's like to go through this tragedy. Shabnam is hurting but Kush helps her realise that if they're going to deal with their loss, they're going to have to face it head on.
They need each other to get through this and Kush is there every step of the way to support his wife. But will it be enough for grieving Shabnam?
They take the painful decision to dismantle Zaair's cot, but Shabnam finds it hard to let go. Is it a case of too much, too soon?
It's one of the hardest things she's ever done, and Kush is right behind her. But will this really mark closure for Shabnam?
Shabnam goes through with dismantling the nursery, but Kush doesn't know she's got another idea up her sleeve...
Kush thinks he has got through to Shabnam. But how will he react when Shabnam reveals she wants custody of her secret daughter Jade?
When Shabnam approaches Jade's social worker to ask for custody of her daughter, it looks like a new can of worms might be opened. Can the lid be closed in time?
Find out on EastEnders from Monday, October 5 on BBC1.
Get the latest updates, reviews and unmissable series to watch and more!
Thank you for signing up to Whattowatch. You will receive a verification email shortly.
There was a problem. Please refresh the page and try again.