How will Martin react to Stacey's dilemma?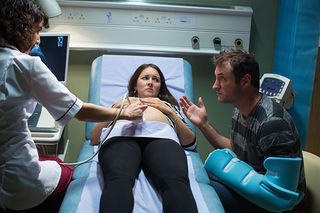 (Image credit: BBC/Jack Barnes)
After the initial shock of finding out she was pregnant, Stacey is now looking forward to being a mum again, and having a brother or sister for daughter Lily.
But recently, she's been worrying over the effect her bipolar medication might have on the baby. Martin is unaware of Stacy's dilemma, and this week excitedly accompanies her to the first scan. Things are looking good until he raises the subject of her bipolar, which leads to an argument. Are they really ready to become parents? 
Your first baby scan should be a happy occasion, which it is, until Martin mentions Stacey's bipolar. Earlier, he'd bumped into Sonia, who had mentioned that Stacey's medication might be affecting her hormones…
Already stressing about whether she should carry on taking her medication or not, it hits a nerve with Stacey and they argue.
Later, they have a heart-to-heart and Martin says he will definitely be there for her, but an unconvinced Stacey reveals she's run out of her pills and intends to stop taking them. Martin is admant he will still support her, but Stacey gives him the option to leave. What will he decide?
Martin is a bit worse for wear at Kush's stag do. Is this really the behaviour of someone who wants to be a responsible father!
As the stag do celebrations continue, will Martin eventually get a reality check and realise he doesn't want to make life even more complicated after all? Tune in to EastEnders on BBC1 from Monday, 24 August to find out.
Get the latest updates, reviews and unmissable series to watch and more!
Thank you for signing up to Whattowatch. You will receive a verification email shortly.
There was a problem. Please refresh the page and try again.