How Jake Wood pranked ex EastEnders star Shaun Williamson and made him a YouTube hit!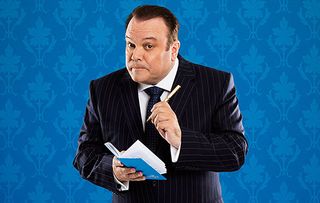 Former EastEnders star Shaun Williamson opens up about his latest starring role – and why people thought he sang at US President Donald Trump's Inauguration!
We caught up with ex EastEnders star Shaun Williamson and discovered what he's been doing and how an online prak by Jake Wood (Max Branning) worked out in Shaun's favour!
So, you're touring Shaun… "Yes. I'm touring with Ray Cooney's famous farce, Out of Order. I'm loving it as it's my first proper farce and it's a true classic. Ray is the master of farce and, at one point, there are about eight of us on stage, running around like headless chickens."
Have you done much stage comedy? "I was in One Man, Two Guvnors at the National Theatre some years ago. But I didn't get to do any of the really madcap stuff. I'm making up for it now! It doesn't half sharpen up the comedy timing."
Who do you play in Out of Order? "A character called George Pigden, who's the private secretary of an MP called Richard Willey. George comes to the rescue when Richard's trying to have his wicked way with the leader of the opposition's secretary. It's a tricky situation, but George makes it even worse."
How long will the tour be on the road? "We finish at the end of July, so 20 weeks in all. That's about the right length of time. You don't get bored with it."
Are any of your old mates at EastEnders coming to see you? "I've put it on my Facebook page and they're all welcome. I don't live in London, so I don't tend to see any of them out and about, but it's great if I do bump into someone and we can reminisce. I've spoken to Emma Barton [who plays Honey Mitchell] about Out of Order as she's worked with Ray Cooney in the past."
It wasn't really you singing at Donald Trump's Inauguration as US president in January, was it? "No! When I'm not working in the theatre, I have a sideline doing singing, after-dinner speaking and stand-up. The clip that was supposed to be of me at the Inauguration was video of me singing at a bowls function! It's on YouTube, under Barry at the Bowls!"
https://youtu.be/bdeuc1zhj44
Who set you up on YouTube then? "It was Jake Wood [Max Branning in Enders]. He spliced it together to make it look like I was singing at the inauguration. Unbelievably, [the original] got four million hits and people still ask me how Washington was!"
Were you mad at Jake? "I've never met him, but I didn't mind. I got a corporate job out of it, actually!"
Get the What to Watch Newsletter
The latest updates, reviews and unmissable series to watch and more!