Ross Kemp reveals what it took to get him to return to EastEnders as Grant Mitchell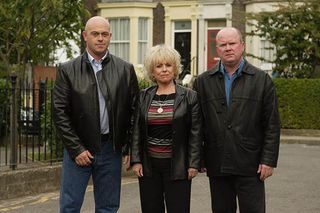 (Image credit: BBC)
Ross Kemp (opens in new tab) has revealed he was forced to return to EastEnders by on screen mum Barbara Windsor (opens in new tab).
Ross, 51- who is married Renee O'Brien - last appeared in the soap as hard-man Grant Mitchell 10 years ago, but was convinced to return to his old stomping ground by the veteran actress, who plays his on-screen mother Peggy Mitchell.
"We met for dinner with my wife and her husband, Scott, and she didn't put a gun to my head but she may as well have done," said Ross.
"Have you tried saying 'no' to Dame Barbara Windsor? It is not easy. She asked me face to face in the restaurant. I had no idea it was coming.
"She's clever and so is Scott. They knew what they were doing."
Grant, Peggy and Phil will be together again for Peggy's deathbed scenes
Ross - who is set to return for a month in the build-up to Peggy Mitchell's death from cancer - told The Sun: "It is going to be emotional. Barbara's character is being written out, so it is going to be surreal. I am looking forward to working with Steve McFadden (opens in new tab) [who plays Grant's brother, Phil] again... I loved being in EastEnders, I had 10 years on it.
"Now I have to start thinking about pulling on Grant's old leather jacket. I've still got it but I don't know whether I fit in it any more. I haven't tried it on yet."
EastEnders (opens in new tab) continues on BBC1, Monday, March 14, 8.00pm.
Thank you for signing up to Whattowatch. You will receive a verification email shortly.
There was a problem. Please refresh the page and try again.