Scarlett Alice Johnson hails Pramface role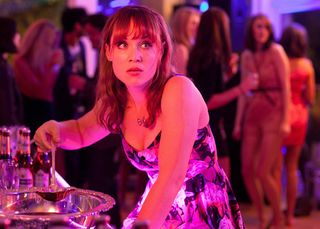 Former EastEnders actress Scarlett Alice Johnson has said that her latest role as a pregnant teenager in BBC3 comedy Pramface is a world away from her role as Vicki Fowler in EastEnders. The 26-year-old trod similar territory in Albert Square when her character had to deal with pregnancy and her subsequent abortion - which spawned a huge reaction from viewers. But in Pramface - which begins next week, she plays an 18-year-old who decides to keep her baby when she falls pregnant - and she said that the role is a very different one. "I hadn't really thought to compare the two but they are very different things. Pramface isn't a kitchen sink drama, it's definitely a comedy," Scarlett said. She added that she was left with some idea of what pregnancy feels like after spending time wearing prosthetics during filming. "I had comedy bellies and comedy boobs - they grew and grew!" the actress revealed. "The last one I had to wear was just enormous. It was so heavy that I got backache. "I was glad to take it off," she added. "Pregnant women clearly don't have that luxury."
Get the latest updates, reviews and unmissable series to watch and more!
Thank you for signing up to Whattowatch. You will receive a verification email shortly.
There was a problem. Please refresh the page and try again.