Soap Stars in TV Adverts!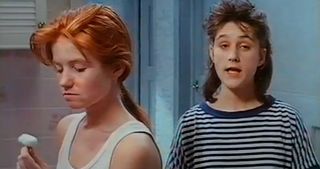 Need a lift at the start of the week? We've had a root around the internet to find the best telly adverts featuring our favourite soap starsI
From Patsy Palmer's US debut in that Best Buy commercial (pictured) to Wendy Richard: Human Cannonball (yep) for the Post Office in 2010, many stars have plugged products with hilarious results before and after starring in the soaps…
Patsy Palmer: Clearasil (1989)
EastEnders favourite Patsy starred in this Clearisil advert back in 1989. Watch out Patsy, Pat will be after those purple triangle earrings if you're not careful. Her on-screen sister, Michelle Byatt, played Nikki the hairdresser in Brookside for five years.
http://youtube.com/v/ukjxQ1JrrTw
Sam Aston: Warburtons (2003)
Quite possibly the cutest child actor to ever grace the cobbles. Sam Aston, who plays Chesney Brown in Coronation Street, started acting when he was five and launched his career doing ads for Asda and Warbutons bread.
http://youtube.com/v/X3D-kftCsEg
Martine McCutcheon: Activia (2010)
Unfortunately, Gok Wan stole Martine's 'perfect moment' as the face of the Activia ads (see what we did there?) The actress played Tiffany Mitchell in Eastenders and a staggering 22 million people tuned in to watch as Frank Butcher killed her off on New Years Eve 1998.
http://youtube.com/v/pLHfLWUD3To
Ross Kemp: Kellogg's Fruit 'n' Fibre (1980s)
Ross Kemp – EastEnders hardman, fearless travel presenter and erm… Fruit 'n Fibre promoter. Yep, we all remember this glorious advert from the 1980s where Ross flexed his vocal cords and for some reason rode around in a golfing cart.
http://youtube.com/v/8bsApDcW1ng
Barbara Windsor: Jackpot Joy (2010)
Barbara Windsor went from Peggy Mitchell to Babs, Queen of Bingo and all round fairy godmother in 2010. We loved watching her prancing about, shaking her wand at unsuspecting winners, almost as much as we loved watching her as Peggy.
http://youtube.com/v/48rCzS55Kts
Alison King: Boddingtons (2004)
The Coronation Street favourite was cast as Carla Connor in 2006 and has tackled dramatics storylines including the death of Tony Gordon and Peter's affair with Tina, so we're guessing advertising beer was a piece of cake! She replaced Mel Sykes as the face of Boddingtons in 2004.
http://youtube.com/v/84JdonuP1Cw
Martin Kemp: SCS (2006) (opens in new tab)
Yeah, yeah, so he played murderer Steve Owen in EastEnders and the notorious gangster Reggie Kray alongside his brother in The Krays, but Martin Kemp is a really nice guy. Honestly, he just loves talking about sofas…
http://youtube.com/v/Z-9ZRg9vNf0
Patsy Kensit: Birdseye (1972)
At the tender age of just four, Patsy starred in this Birds Eye peas advert. Who would have thought that she would go on to act in a Hollywood film, marry a rock star and most importantly play flashy Sadie King in Emmerdale?
http://youtube.com/v/v5_9CS1YKmA
Katherine Kelly: Leerdammer (2006)
Cheese is a pretty glamorous thing to advertise, right? That must be why Corrie's Becky starred in this advert for Dutch cheese Leerdammer in 2006. It was rumoured that Becky might return to the cobbles this year, but Katherine denied these were true. Boo.
http://youtube.com/v/dT0c8ydEzbQ
Lorraine Chase: Campari (1970s)
She is probably most well known for playing Steph Forsythe in Emmerdale, but Lorraine originally found fame through these series of Campari adverts where she proudly displayed her Cockney accent in a series of classy surroundings, immortalising the line, 'No, Luton Airport!'
http://youtube.com/v/1neWoEwS7nI
Billy Murray: Injury Lawyers 4U (2008)
Billy won the Best Villain award at the British soap awards in 2006 for his portrayal of gangster Johnny Allen in EastEnders. Basically, if Johnny Allen tells you to do it, you do it, so he was the perfect choice of this serious insurance advert.
http://youtube.com/v/j2jNLwg_C4Y
Suranne Jones: Maltesers 1997
Before playing the wonderful, wicked Karen McDonald in Coronation Street, the nation's sweetheart Suranne Jones starred in this Maltesers advert in 1997, forcing her pal to drive around a roundabout hundreds of times so she could steal the chocolates – naughty Suranne!
http://youtube.com/v/UcraY0ZkyTI
Wendy Richard: Post Office (2008)
We always try to save the best till last. The late, great Wendy Richard shows off her silly side, a far cry from her EastEnders character, in this brilliant ad for the Post Office in 2008.
http://youtube.com/v/vP9g-qbfiI0
Get the latest updates, reviews and unmissable series to watch and more!
Thank you for signing up to Whattowatch. You will receive a verification email shortly.
There was a problem. Please refresh the page and try again.