Fashion frights! Soap stars in fancy dress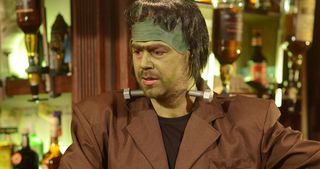 (Image credit: BBC/Kieron McCarron)
Photos of soap stars in fancy dress through the ages
We're in stitches (get it?) over Mick Carter's Frankenstein costume, coming to EastEnders next week. Here we take a look back at some of the best soap fancy dress…
Gruesome twosome Heather and Shirley put in some serious effort (they really didn't) to celebrate Heather's hen do in 2008. Seriously, we could stare at this picture all day.
Kylie went all out (check out those fake tattoos) when she donned a beehive and huge gold hoops to Corrie's jubilee party as the late, great Amy Winehouse.
Looks like Marcus wants to break free (!) from 1960s'esque Maria and Sean's Freddie Mercury at the Jubilee party in 2012…
They sure know how to dress up in the Woolpack. That's Bob as Dame Edna. Yep, you read that correctly! Ashley clearly borrowed Sean from Corrie's Freddie Mercury outfit.
Aww cute, a couple that sucks blood together stays together. Kat and Alfie proved this at the Queen Vic's Halloween party back in 2012.
Ghastly Grace made a strong effort here at the Windass' Halloween party last year. Sally, where is your costume? Owen - a bit of fake blood on the cheek does not a Halloween costume...
Ah, that's better. Faye's Sporty Spice outfit might not be the most original at the Corrie's Jubilee Street party in 2012, but don't Anna and Owen look fabulous as Dolly Parton and...
2008: We're not sure what's scarier here… Genie's spooky witch costume or Chas's angry face…
We have no idea why Shirley is dressed as a country singer or why she seems to be covered in curry, but we like it.
Sure, we got Dev's costume straight away, but it took us a little while to figure out Sunita was dressed a 'Single Lady' Beyonce at Corrie's fabulous Jubilee Street Party. Uh-oh, uh...
Patrick looks fangtastic as a vampire back in 2013, although we're not sure he could drink his usual glass of rum with those bad boys in. Ouch.
We know what you were thinking back in 2009, why didn't I organise a Vicars and Liz McDonald party years ago? Well, nows your chance. But Graeme Procter's way ahead of you!
Eva and Beth dressed to impress as pretty pop princesses Britney Spears and Madonna at the Jubilee party - loving the wig Madge!
Is it just us or is this costume a bit more Elton John then John Lennon? Either way, Steve rocked that stomach churning shirt and terrible wig at the Jubliee extravaganza.
Leyla and Alicia donned these saucy fancy dress costumes to flog burgers in 2014. Did Leyla (centre) borrow that PVC catsuit from Britney Spears? We suspect so.
Rodney entertains the kids at the Woolpack Halloween party in 2008 - look at little Belle at the front there! Cute.
Here's Minty enjoying his stag do in the Queen Vic in 2008. We don't know what happened to the sheep and we don't want to either.
Peggy Mitchell (Babs Windsor) was scary enough behind the Queen Vic bar, without donning this Halloween garb. We're shivering.
We bet a few ladies dropped their hankies for a suave Fat Boy when he wore a gentleman's period costume in the Queen Vic. Not very scary though is it?
Here's Roxy Mitchell dishing out Halloween treats to some punters who unfortunately think that throwing your bed sheet over your head is good enough for the Queen Vic's Halloween party....
Oh, it was Jay, Abby and Lola! We expected more from you. Come on guys, the white sheet thing is weak.
Sisters Kim and Denise brought some sassiness to the Square in 2012 as Catwoman and Wonder Woman. They're fit and and don't they know it!
Back in 2004, the ladies' bowling team required a ringer, so instead of just finding one, they dragged up Jack Duckworth as his alter ego 'Ida Fag'. Corrie comedy at its best.
We're sure Gail Platt would call these three 'witches' whatever they were wearing. Here's Eileen, Janice and Fiz at the Rovers' Halloween bash in 2003.
I say I say I say! It's a barely recognisable Fred Elliott as Frankenstein (right) with his bride Bev (centre). They'd clearly blown the budget on Fred's get up, with poor Keith Duffy...
Another Fright Night in the Rovers - there's gym-t-shirt-wearing Keith again, with Maria, Nick Tilsley 2.0 and his ghoul-friend Candice.
Saucy devil is the go-to look for a Rovers Return Halloween party, it seems. Karen McDonald, he's behind you! Oh, that's panto. Never mind.
Ah, Viv Windsor, yet another glamorous outfit straight from the catwalks of Paris. Or, maybe Pontefract. She glammed up with husband Bob for Emmerdale's Jubilee celebrations in 2012....
Get the latest updates, reviews and unmissable series to watch and more!
Thank you for signing up to Whattowatch. You will receive a verification email shortly.
There was a problem. Please refresh the page and try again.