Johnny Carter returns to EastEnders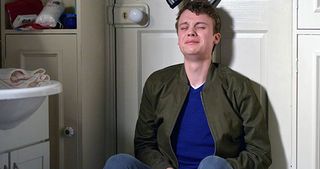 (Image credit: BBC/Kieron McCarron)
It's not a happy homecoming when Johnny Carter returns to Albert Square
But he's shocked and upset to discover the traumatic events his family has been through while he's been away.…
After all the drama with Ollie, Linda's feeling down in the dumps so Mick and Sharon come up with an idea to cheer her up. Will hosting a karaoke night do the trick?
If the karaoke night doesn't lift Linda out of the doldrums, Mick has an idea that's sure to put a smile on his wife's face, so he makes a call…
The karaoke night doesn't get off to a good start when Ben and Abi cause a scene, but it improves when, to Linda's delight, Johnny makes a surprise return…
After Johnny steps into the karaoke spotlight to sing a favourite song, he soon begins to notice that all is not well chez Carter…
Although she's thrilled to be reunited with her son, Linda's on edge because she still hasn't told him about what happened with Dean, so Mick encourages her to tell him
After Johnny tells his mum that he's split up with his boyfriend Gianluca, Linda realises he needs to know the truth and tells him that she was raped by Dean…
Johnny struggles to come terms with everything he's missed, and a chat with his gran Shirley makes him realise how much his family has been keeping from him…
Things aren't helped when Nancy fills her brother in about her recent dramas involving baby Ollie and dad Mick…
It all becomes too much for Johnny and when he finds himself alone he ends up breaking down…
Despite his heartache, Johnny paints on a smile when Mick gathers the Carter clan for a family photo…
They say the camera never lies but while the Carters may look like a happy family, things are still fraught between certain members of the family…
Later, Johnny finally snaps and blames his dad for everything that's happened! Watch this story unfold on BBC1 from Monday, April 11
Get the What to Watch Newsletter
The latest updates, reviews and unmissable series to watch and more!