Mick and Linda Carter stare divorce in the face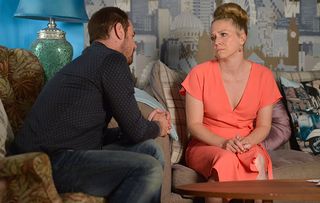 It's crunch time for Mick and Linda Carter as their marriage reaches make or break!
With Mick and Linda Carter's marriage on the line, after his kiss with Whitney was revealed, his mum, Shirley, tries her bestto help the fractured couple put the past behind them and get back on track with what was one of the most solid partnerships in the Square.
Will Linda go along with Shirley's plan or has she had enough and is ready to ditch Mick? And will Mick be able to make it up to Linda with a special gesture or is it too late for that and the end is near for The Queen Vic pair?
As their marriage reaches crisis-point, the Carter couple are at loggerheads about their situation
Shirley tries to come to the rescue by arranging lunch with Whitney and fiance Woody to show Linda that everyone's moved on...
But as the awkward lunch turns boozy, a tipsy Linda winds Mick up by flirting with Woody!
After the painful gathering, Mick and Linda try to thrash out their differences
But they just go round in circles, as they argue about all that's wrong in their marriage
Mick and Linda contemplate their future as they gaze out over the Square. Are they about to say goodbye to their life as a married couple?
When Mick tries to make a grand, last-attempt gesture and give Linda a present, how will she react?
When Linda reacts in an unexpected way to Mick's gesture, is this the end?
As Linda confides in best mate Sharon about the situation, what will her pal advise?
Meanwhile, Mick tries to get to the bottom of what's going on with businesswoman Fi
As the pair have a heart to heart, Fi later makes a phone call
But who is feisty Fi mysteriously calling and why? And what will the outcome be for Mick and Linda's fragile marriage? Watch EastEnders on BBC1 from Monday, August 28
Get the latest updates, reviews and unmissable series to watch and more!
Thank you for signing up to Whattowatch. You will receive a verification email shortly.
There was a problem. Please refresh the page and try again.