Phil Mitchell's reunited with an old prison mate, but why is he here?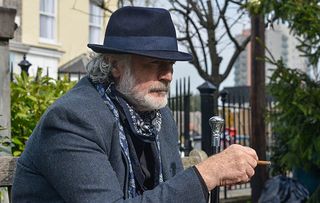 Phil's thrilled when his former prison cellmate Aidan turns up but it's clear he's come for more than a cup of tea and a chinwag…
Walford's Mr Grumpy aka Phil isn't exactly known for having loads of mates, but it turns out he has at least one when an old pal from his prison days, Aidan – played by Sleeping with the Enemy actor Patrick Bergin – turns up on his doorstep.
But Phil's joy doesn't last for long when he realises the real reason Aidan's come to Walford is to see Vincent and when he discovers they are plotting some kind of criminal activity, he decides he wants a piece of the action, too…
An old friend of Phil Mitchell show up in EastEnders, but what does he want?
An old friend of Phil Mitchell show up in EastEnders, but what does he want?
As Phil enjoys catching up with Aidan, Sharon's a bit bemused to be introduced to a man her husband's never mentioned before!
Phil realises Aidan hasn't just come to see him when he spots his old pal with part-time villain Vincent…
It turns out that Aidan's planning some sort of 'job' and wants Vincent to help him
Phil's put out when he finds out what Aidan's up to. Why didn't he come to his old mucker first?
Phil clearly wants a piece of the action, but we doubt he's going to tell his wife Sharon about that!
Phil meets with Aidan to find out what this so-called 'job' is. Uh-oh, we smell trouble!
There could be trouble for Kathy, too, when she's clearly charmed by the roguish Aidan… Watch this story unfold in Eastenders from Monday 27 November on BBC1
Get the What to Watch Newsletter
The latest updates, reviews and unmissable series to watch and more!