Sonia Fowler shares a kiss and a drink with Gethin Pryce in EastEnders!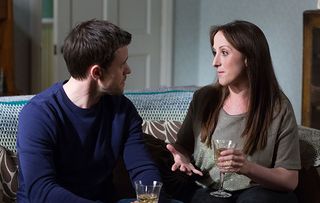 How will jealous Bex Fowler react when her mum Sonia Fowler kisses teacher Gethin Pryce?
Sonia what are you doing! Bex Fowler's extra-curricular activities with handsome music teacher Gethin Pryce always looked likely to end in heartache for the teenager – and a P45, or worse, for Mr Pryce. So far, it seems lessons haven't been learned. Bex is still infatuated with her man, while it's anyone's guess how she'll respond when the teacher kisses her mum, Sonia.
As Sonia and Gethin grow close, what will be besotted Bex's next move?
As Sonia and Gethin grow close, what will be besotted Bex's next move?
Earlier, Sonia rocks Bex by telling her what happened on her trip to Kettering
In the café, Bex devises a plan to make Gethin jealous
It involves giving Shakil a smacker!
Of course, wily Bex has made sure Gethin sees the smooch
But it seems the teacher knows exactly what Bex is up to, and begs her to stop
Soon, the teacher and Sonia are getting cosy over a glass of wine…
…which leads to a kiss spotted by a devastated Bex! What will the teenager do now? Catch all the action on EastEnders from Monday 2 October
Get the latest updates, reviews and unmissable series to watch and more!
Thank you for signing up to Whattowatch. You will receive a verification email shortly.
There was a problem. Please refresh the page and try again.