Aaron kisses hot doc Alex and is caught in the act by Robert!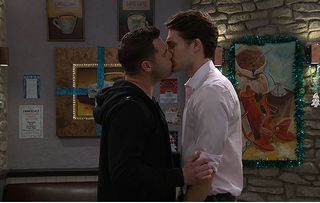 Aaron kisses Doctor Alex...
Wanting Aaron to get it together with Doctor Alex, Liv plays Cupid. And her efforts eventually succeed and result in a steamy kiss between the pair! Liv's chuffed - and even more so when her scheming ends in Robert catching the clinch, too.
Love isn't really in the air elsewhere, especially for Leyla who blurts out her feelings for David. Twice. And on the second go, David's wife Tracy walks in and catches the end of the awks convo. Uh oh… Rhona's also having a hard time with matters of the heart, too…
The Dingles face heartbreak this week when they learn Alfie the dog has cancer. After their beloved pet is put to sleep, the family gather to pay their respects. But the tender moment turns aggro when Morris from the council turns up and puts his size 9s in it.
Pete has a nightmare with Leyla, and is stressing out about vicar Harriet wanting to organise a funeral for his mum. Not coping, he hits the bottle before taking a drunken fall down the stairs! Ross finds his brother unconscious, and calls 999…
In a bid to move on from his past with Robert, Aaron kisses hot doctor Alex!
Liv plays Cupid in a bid to get her brother Aaron together with Doctor Alex, who recently treated her in hospital.
Pete makes a special effort for Leyla…
It's awkward at best - Leyla just doesn't know how to tell her ex, Pete, that she's got feelings for someone else…
All too soon, the evening takes a nose dive when Tracy puts her foot in it.
After a chat with his mum Chas, Aaron realises he's got nothing to lose and meets up with Alex.
Telling Alex he's over Robert, Aaron locks lips with the hot doc!
Aaron's ex Robert walks in on the pair kissing…
Leyla plucks up the courage to tell her ex, David, how she feels about him.
It doesn't go well with David - but Leyla isn't about to give up and has another go. But David's wife Tracy walks in and hears the tail end of their conversation!
Morris from the council makes a silly mistake when he interrupts a Dingles' gathering.
Zak and co are devastated as they've had to put down their beloved dog Alfie. So Morris' arrival doesn't go down well…
Faith tags along with Pollard, who's desperate to right his wrongs and undo the deal he made with Morris from the council, which has caused such strife for the Dingles.
Rhona tries to drop hints about her feelings to Paddy.
But Paddy's way into Chas, and Rhona's heart aches when she watches the couple playing Mary and Joseph in Leo's school nativity play.
Struggling with what is going on in his life, Pete gets hammered and ends up falling down the stairs at Dale View.
Ross finds his brother Pete unconscious, and calls 999! Will Pete be OK? Watch Emmerdale on ITV from Monday 4 December.
Get the latest updates, reviews and unmissable series to watch and more!
Thank you for signing up to Whattowatch. You will receive a verification email shortly.
There was a problem. Please refresh the page and try again.