Ambushed! Joe Tate is set upon by a gun-totin' masked man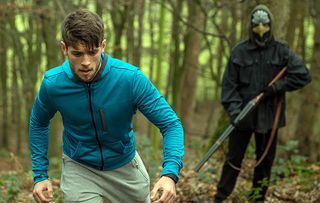 Joe Tate is the target of some serious abuse as Debbie attempts revenge, and a masked man ambushes him
Debbie Dingle unleashes her revenge on Joe Tate who used her as a vehicle to get back at Charity, who he believes is to blame for his father Chris' death. After the Debbie saga, Joe finds himself in another scary scenario when he's out jogging. In the grounds of Home Farm, he's pounced upon my a gun-totin' masked man and falls into a camouflaged pit...
The Dingles attempt to move back into Wishing Well, which is barely still standing thanks to Joe Tate.
In hospital, Lachlan quakes as his comatose aunt Rebecca shows early signs that she may well regain consciousness. Desperate to keep his secret - that he's responsible for the crash which wiped out most of his family - he flees Chrissie and Lawrence's funerals to try to do away with incriminating evidence...
Affairs of the heart affect Brenda who's in bits about philanderer Bob while Rhona wins a date with Pete in an auction and smitten Marlon bags time with Jessie.
Ambushed! Joe Tate is set upon by a gun-totin' masked man
Ambushed! Joe Tate is set upon by a gun-totin' masked man
At Home Farm, Debbie has been waiting for Joe to arrive.
In a bid to make him pay for using her, Debbie scorns Joe before telling him she plans to burn his home to the ground!
It's apology time for Faith who tells Pollard she judged him too harshly.
At Wishing Well, Zak and Lisa survey the damage which has been done to their home.
Rebecca White remains in a coma but Robert is sure she will regain consciousness when he notices his ex-lover's finger twitching.
Out for a jog on the estate, Joe gets the shock of his life...
... when a gun-totin' masked stranger appears! Joe falls into a pit which had been camouflaged.
Chrissie and Lawrence White's funerals take place. But Lachlan's mind isn't on the job - he needs to get out of the service...
... Lachlan has got hold of Gerry's phone as he needs to delete incriminating evidence. Will Gerry and Belle get him to tell them what is going on?
At the fundraising auction, Rhona makes a bid for Pete in the hope it will make Paddy jealous.
Awkward! Smitten Marlon spends time with Jessie.
Brenda breaks down on Kerry admitting she's still not over Bob's affair. Will she find out his lady love was Lauren? Watch Emmerdale on ITV from Monday 22 January.
Get the latest updates, reviews and unmissable series to watch and more!
Thank you for signing up to Whattowatch. You will receive a verification email shortly.
There was a problem. Please refresh the page and try again.