Belle is caught red-handed in Emmerdale!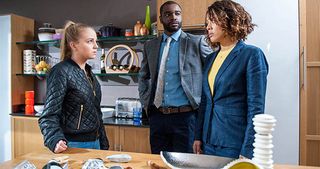 (Image credit: Andrew Boyce)
The teen is horrified when she's caught in a compromising situation!
Bailey and his wife are horrified when they find their home trashed and Belle in their kitchen!
Earlier, Belle treats Lisa to a slap-up meal at a fancy restaurant to apologise for all the recent stress she's put her through
But the evening soon takes a very awkward turn...
Belle's horrified when Bailey and his wife roll up at the very same restaurant!
Belle's not only squirming but hurt to see her secret lover playing happy families with his wife. But the teen's later got more mayhem to deal with...
When she gets a call from Lachlan, she discovers he's gone to Bailey's house to teach the cheating doc a lesson. She races round to stop him doing any harm...
Too late! Lachlan has trashed Bailey's home and had fun smashing crockery! Belle's fuming but as she goes inside to survey the carnage there's a noise at the front door...
WK24-Emmer-Belle-Dingle-Lisa-Dingle-Dr-Jermaine-Bailey-Angie-Bailey-Lachlan-White08
Bailey and Angie are back and are stunned to find "stalker" Belle alone and their house trashed. Explain this one Miss Dingle!? Watch Emmerdale on ITV from Mon, June 13.
Thank you for signing up to Whattowatch. You will receive a verification email shortly.
There was a problem. Please refresh the page and try again.