Charity kisses Frank in Emmerdale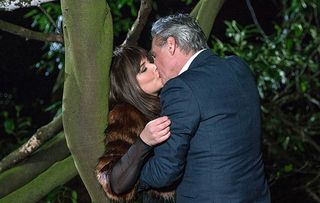 As Charity and Frank team up to carry out a scam, one thing leads to another in Emmerdale
Charity and Frank like two peas in a pod, always on the lookout to make a quick buck and neither one afraid of breaking the law in Emmerdale!
It was only a matter of time before naughty Charity and Frank paired up and soon they're both on an adrenaline-fuelled high as their plan to scam some diamonds gets underway.
With their mission complete the pair bask in their success and it's not long before one thing leads to another as the obvious attraction between them sizzles...
Charity and Frank lock lips after pulling a money-making scam at Home Farm….
Charity and Frank lock lips after pulling a money-making scam at Home Farm….
Charity digs out her trusty conwoman wig and she and Frank head off to Home Farm, safe in the knowledge that the White family are all out.
Posing as a couple, the pair meet jewellers who have a very nice display of diamonds.
Charity and Frank turn on the charm, pretending they're interested in purchasing one of the glittery jewels.
The scenario starts off promisingly, but when things start to get trickier than expected, Charity spots an opportunity and hastily swipes a couple of the gems.
She and Frank leg it when one of the jewellers realises what's happened.
As the pair dash off into woods their hearts are thumping.
And in the heat of the moment their mutual attraction turns into a kiss!
These two are perfect for each other, but Frank is soon simmering about Charity's underhand actions.
Meanwhile Chrissie is aghast to return home and find the place swarming with police and when she later notices Charity seems to suddenly be in the money, she's on her case!
Chrissie demands to know how Charity suddenly has a stash of cash to pay for her granddaughter Sarah's treatment.
As the two women go head to head, it looks as if a vicious cat fight is in danger of breaking out.
Lawrence wades in to stop his daughter from physically attacking Charity.
But his headstrong daughter is not about to back down. As Charity confesses to her crime a raging Chrissie threatens to call the police.
Lawrence leaps in to try and smooth over the situation before the law gets involved.
Meanwhile, after discovering her crime, a disbelieving Debbie tells her mum she wants nothing more to do with her. Haven't we heard Debs say that a million times before? Are law-dodgers Frank and Charity about to find themselves back in prison? At this rate they will!… Watch Emmerdale on ITV from Monday, February 6
Get the latest updates, reviews and unmissable series to watch and more!
Thank you for signing up to Whattowatch. You will receive a verification email shortly.
There was a problem. Please refresh the page and try again.