Emmerdale's Amy Walsh: The car rolls into water and Tracy's covered in mud!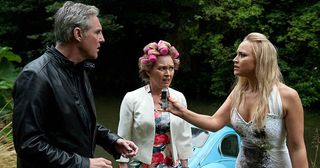 (Image credit: Andrew Boyce)
It looks like all of David's wedding proposals to Tracy in Emmerdale are about to pay off. And then Tracy's father goes and messes things up
Tracy and David are all set to get married in Emmerdale, then her father Frank interferes and disaster strikes. Amy Walsh tells Soaplife the whole story...
So, Tracy finally said 'yes' to David (Matthew Wolfenden)? "Well, she's enjoying tasting cake and going along with all the preparations, but she still hasn't said whether or not she will go through with it."
Is she worried about David's cancer results? "She knows the day of his test results is approaching and is trying to stay positive, so she's shocked when he says if he doesn't get the all-clear he can't marry her, as he doesn't want to leave her a widow."
So how does her dad mess things up? "She has a row with him and asks him to prove that he is worthy of being part of her life. He responds by asking her to get in the car and drives her off into the woods. He takes her to a tree where he carved her name when she was born, but Tracy falls asleep in the car and wakes up the next morning in the middle of nowhere."
What's happened? "The car battery has gone, the phone isn't working and they are stuck. They manage to get hold of Vanessa [Michelle Hardwick], who brings Tracy's wedding dress, but her car rolls into some water and the dress ends up covered in mud. It's a disaster. Tracy is fuming because all she wants to do is marry David and she is stuck in the middle of nowhere. She knows that David is probably thinking that she hasn't turned up because she doesn't want to marry him, but she does."
But Frank (Michael Praed) has a way of getting her to the church… "He pulls up on a tractor and says that he can get her to her wedding on time. Tracy has no other option, so she hops on with Vanessa. Will they get there? You'll have to tune in to see."
Emmerdale, ITV
Get the What to Watch Newsletter
The latest updates, reviews and unmissable series to watch and more!