Emmerdale Behind the Scenes Picture Special: Leyla and Pete's Wedding!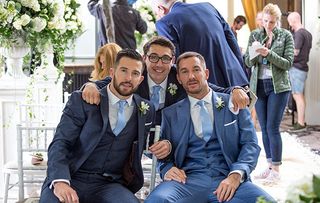 Take a look behind the scenes of Leyla and Pete's wedding day. It is picture perfect, but will the Emmerdale nuptials all go to plan?
It's Leyla and Pete's big day next week and, with the groom having had an affair with the Maid of Honour Priya, there's bound to be a few fireworks. We headed to Yorkshire to watch Emmerdale's latest wedding day drama being filmed.
While most nuptials take place in the church hall, this one's a much grander affair and was filmed over four days in super swish Oulton Hall, just outside Leeds. We were given a VIP seat to catch all the action…
This image is a sneak peek at the room where Leyla and Pete will exchange vows (if they get that far!) The room has been dressed by florist Sheryl Popplewell, who has worked for the likes of Elton John and Celine Dion.
She explained: "The big trees are artificial but we have real flowers - hydrangeas, scented roses, and larkspur gladioli."
Emmerdale Wedding – all the behind the scenes pics:
Actress Roxy Shahidi (Leyla) isn't impressed when we catch her in her dressing gown between scenes, but she told us she was having a ball at the venue, and has booked a room to avoid a long commute from her home city of Nottingham. "I've already had a spa treatment, and when I get some downtime, I'm doing a bit of yoga," she said.
Here's Roxy again – this time in her wedding dress. "It's from Phase Eight, and we've got a few, in case there are any accidents," she revealed. "I think it's quite classy for Leyla – I thought she'd have more feathers and colour. But sometimes she surprises even me, and goes for something a bit more demure."
Anthony Quinlan (Pete) poses for the camera with Michael Parr and Joe Gill, who play his screen brothers Ross and Finn. "We've gone for a nice little suit from Ted Baker for Pete," he told us. "It certainly beats Pete's farming overalls, and it's nice to see him scrub up for a change."
As Fiona Wade reapplies her lipstick, the actress who plays Priya told us: "It's nice to be out of the studio and to see people that you don't normally work with – often, you're just waving at each other down the corridor."
Michelle Hardwick, who plays Vanessa, looked pretty serious as she made a call between scenes, but she told us, "I live two minutes away from this location so I'm loving it! Plus, I'm not speaking, so I get the chance to relax and have a bit of a giggle with my mates."
Matthew Wolfenden gave us a cheeky smile, and revealed a wardrobe malfunction for his character, David. "The costume department got me a new blue suit, but I did the Full Monty documentary for ITV recently and spent nearly every day in the gym – and it didn't fit. So I had to wear an old grey one instead."
Every guest was given an Order of Service – and we sneaked one for ourselves. Let's just hope the cameras don't zoom in for any close-ups – the front cover and the first page were the real deal but after that, it was random blurb all the way!
Adam Thomas (pictured with Isobel Hodgins) was surprisingly subdued and didn't live up to his reputation as the loudest star on set. "He's been fairly well behaved – I think he's a bit tired," his co-star Amy Walsh told us. "If he's not well behaved, he's a nightmare! His laugh is so loud!"
Actress Gillian Kearney gets her hair and make-up checked by a crew member. The day was a chance for the actress to have some lighter material, following some dramatic scenes lately between her character, Emma Barton and Laurel Thomas.
As Amy Walsh (Tracy Metcalfe) fixes her make-up and re-curls her hair, she gave a big thumbs up to the show's design team. "The room looks so lovely - the flowers and the lanterns are right up my street!"
Anthony Quinlan gets ready to film a scene in the hotel grounds. He said: "I've had two soap weddings before – one when I played Gilly in Hollyoaks (opens in new tab) and one when Pete married Debbie, which obviously didn't go too well!"
He added: "They can drag on a bit, but we're well looked after here. The food's nice and I've nicked a few things off the breakfast buffet!"
Pete and Leyla's wedding is on screen Thursday, August 17 at 8pm on ITV
Get the latest updates, reviews and unmissable series to watch and more!
Alison Slade has over 20 years of experience as a TV journalist and has spent the vast majority of that time as Soap Editor of TV Times magazine.
She is passionate about the ability of soaps to change the world by presenting important, issue-based stories about real people in a relatable way.
There are few soap actors that she hasn't interviewed over the years, and her expertise in the genre means she has been called upon as a judge numerous times for The British Soap Awards and the BAFTA TV Awards.
When she is not writing about soaps, watching soaps, or interviewing people who are in soaps, she loves going to the theatre, taking a long walk or pottering about at home, obsessing over Farrow and Ball paint.
Thank you for signing up to Whattowatch. You will receive a verification email shortly.
There was a problem. Please refresh the page and try again.