Ex Emmerdale star Bill Ward takes to the stage: 'Variety really is the spice of life!'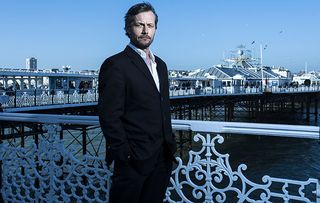 (Image credit: Helen Maybanks)
Actor Bill Ward has swapped soap for an extended period on the road with a touring theatre production – and he's loving it
Former Corrie and Emmerdale star Bill Ward told Soaplife about his new stage role… And this time he doesn't end up dead!
Tell us about your stage role, Bill… "I'm taking over the role from Shane Richie, who has been playing Detective Superintendent Roy Grace in the UK tour of whodunit play Not Dead Enough since the start of the year. I'll be in the role from mid-April to early July. It's the same role, but our approach to it will be very different. What I do with the role is very much my call."
Did you and Shane discuss the role? "I live in Bristol so when the play came to town, I went to see it a few times to get myself acquainted with it. Shane's great. I've met him a few times before and I was very briefly in EastEnders with him."
Oh... when was that? "It was years ago and years ago, when Alfie was running The Vic. I played 'the man from the brewery' and I turned up in the pub to present him with an award. It was my first TV job out of drama school and Shane couldn't have been nicer."
So, tell us about the play… "It's adapted from the novel of the same name by Peter James. It opens with a murder. On the night his wife is murdered, a character called Brian Bishop says he was 60 miles away, asleep in bed. But Detective Superintendent Roy Grace, who is dealing with the mysterious disappearance of his own wife, starts to dig a little deeper into the chilling murder case and it becomes clear that all is not what it seems!"
You've been 'murdered' yourself. First in Corrie, as Charlie Stubbs and, more recently, as James Barton in Emmerdale. Are you sorry you can't return to either soap? "Not at all. I'm very proud of both exits. They were great pieces of storytelling and, as an actor, you can't ask for much more. I love the fact that I've had a lot of variety in my career – TV and theatre."
What else have you got coming up? "Later this year, I'm going into a tour of a musical version of Legally Blonde. As far as I'm concerned, variety really is the spice of life!"
For more details on Not Dead Enough, visit www.peterjames.com/plays/not-dead-enough
Get the What to Watch Newsletter
The latest updates, reviews and unmissable series to watch and more!