'Bob Hope knows everything about stockings and suspenders' says Emmerdale's Tony Audenshaw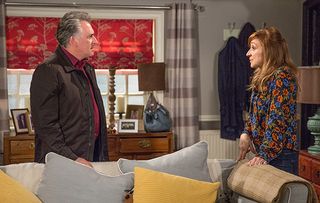 Bob Hope's tying himself in knots keeping secrets from Laurel Thomas, reveals Emmerdale actor Tony Audenshaw…
Bob Hope is having trouble being honest with partner Laurel Thomas. He didn't own up to losing his job at the café and when he has a job interview, he isn't honest about how it goes. They make up eventually and head off for a family camping trip, but in the woods strange things happen – is there a monster in their midst?
What's the story?
"Laurel is very hurt that Bob hasn't been truthful with her," actor Tony Audenshaw tells Soaplife. "I genuinely don't know if there is a future for them." Will the family camping trip strengthen their love or break it altogether?
What's happening in Emmerdale? See the latest soap storylines
Emmerdale star Tony Audenshaw's chat with Soaplife about Bob Hope's latest problems…
Soaplife: How are things between Bob and Laurel?
Tony Audenshaw: "They are getting on well, but they are finding it hard with this extended family they have to deal with. One parent can't discipline the others' children and it's all been a bit of a problem. They actually haven't had much time for the two of them."
S: Why has Bob stopped working at the café?
TA: "His ex, Brenda Walker, asked him to have a look at the accounts and they are way behind on a lot of bills. He feels guilty for leaving her and offered to leave the café. If he is not drawing a wage, she should be able to keep it going as a business. He is still keeping half of the ownership though."
S: Why doesn't he just explain that to Laurel?
TA: "He doesn't want to worry her. He decides to get a new job and then he'll tell her about it and everything will be okay. Unfortunately, Brenda tells Laurel that Bob doesn't work at the café any more when she pops in to speak to him."
S: How does Bob react when he realises Laurel knows the truth?
TA: "He says, 'Don't worry because I have got a job interview tomorrow at Naughty Nylons.' He knows everything there is to know about stockings and suspenders because he worked for them before as a travelling salesman. He thinks he is absolutely guaranteed to get this job."
S: How does the interview go?
TA: "Well, things have changed at Naughty Nylons over the last 10 or 15 years, but Bob has stayed the same and thinks he can talk about stockings, suspenders and women in the same way he did in the 80s and 90s. The new boss of the company doesn't think he is right for the job."
S: What does he tell Laurel?
TA: "He doesn't tell her it went badly because he thinks he is going to get another job. He overhears Laurel saying to Nicola that it's difficult between them and he assumes she has doubts so decides to keep quiet."
S: Tell us about the camping trip they go on…
TA: "It is with Jimmy, Nicola and all the kids. They all get on well, but Jimmy and Bob wind them up about the Beast of Ilkley Moor."
S: Are you enjoying Bob's relationship with Laurel?
TA: "It's great. It is tapping into different seams and I don't know where the character is going to go."
S: How does he feel about Brenda and Doug Potts?
TA: "It is the perfect scenario for Bob. He has done the dirty and immediately his missus has found somebody else!"
Get the What to Watch Newsletter
The latest updates, reviews and unmissable series to watch and more!