Charity exposes Vanessa's secret in the pub, reveals Emmerdale's Michelle Hardwick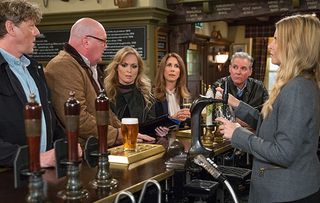 Charity Dingle wanted a love life…but no one expected her to choose vet Vanessa Woodfield! Michelle Hardwick reveals Vanessa's reactions to her new affair
Following her romps with Charity, Vanessa doesn't quite know what to do with herself. She is mortified by her actions, but Charity is having fun tormenting her. In a bid to prove to the world that she's straight, Vanessa takes drastic action and goes on a date with Daz.
What's the story?
"Vanessa is confused about her sexuality," Michelle Hardwick told Soaplife. "Daz appears and she is like 'Let's go for drinks tonight!' But they end up in the pub, where Charity has more fun with her in front of everyone!
What's happening in Emmerdale? See the latest soap storylines
Emmerdale star Michelle Hardwick reveals all to Soaplife
Soaplife: We can't believe Vanessa copped off with Charity!
Michelle Hardwick: "Emma Atkins [who plays Charity] and I couldn't believe it, either, when we first read the scripts. It comes out of nowhere. She fancies Charity and, at first, it was down to the drink, but she is drawn to her, even though she's the person who ruined her dad's relationship with Megan."
S: Were you pleased about the pairing?
MH: "Yes. Emma and I were laughing about it at first – we share a dressing room, so we talked about it a lot. It makes sense to me. Vanessa was in love with Kirin, but that was two years ago now. In Emmerdale it is easy to go from lad to lad, but Vanessa hasn't and I like that about her."
S: It's not her first relationship with a woman, though…
"Well, there was Rhona but Vanessa didn't have sex with Rhona. They spooned. It was just love for a friend and she doesn't really count that."
S: So is Vanessa gay?
MH: "Well, when Rhona asks her what it was like to sleep with a woman, she says it was unlike anything she's ever felt before. I like the fact that she is a lesbian."
S: What was it like kissing Emma Atkins?
MH: "It was flattering when she said 'You kiss better than your dad' [meaning Michael Praed, who plays Frank]!"
S: How does the date with Daz go?
MH: "Badly. Vanessa doesn't want to meet at the pub as Charity is there, so she arranges to meet Daz at the shop. However, he wants to go to the pub. Vanessa is done up like Bonnie Tyler with this big hair and little leather skirt. They go to the pub and Frank walks in with Megan, Paddy is there, too and Charity goes for the kill and tells everyone what happened between them."
S: Will Vanessa go back for more?
"Yes, she can't help it. It does continue for a bit and Vanessa is quite feisty – she could be the person to put Charity in her place."
Emmerdale, ITV
Get the What to Watch Newsletter
The latest updates, reviews and unmissable series to watch and more!