Emmerdale's Charley Webb: 'I'm much more laid-back about motherhood second time around'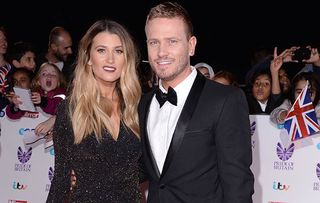 (Image credit: Doug Peters/EMPICS Entertainment)
Charley Webb talks about life as a mother of two and her... and Debbie Dingle's.... return to Emmerdale
After taking a year off to have her second child with partner and Emmerdale co-star Matthew Wolfenden (David Metcalfe), Charley Webb has just made a dramatic return to our screens as Debbie Dingle, who's been living in France and is now on the run with her children, Sarah and Jack.
Charley, 28, who is mum to Buster, aged six, and one-year-old Bowie Grey, spoke to Soaplife about her return to work.
"I've had mixed feelings about going back," she said. "I'm excited, but apprehensive about working and having a young baby to look after."
Did you keep up with Emmerdale on TV during your year off? "I really struggled to watch it actually, because having two children means my life is so much busier than it was before. I've been really strict with routine this time round, so I've only caught bits of it as 7.00pm is bath and bottle time in our house."
What do you think about the show winning loads of awards? "It's amazing, but to me awards aren't really that important. What's really nice is that people are finally recognising how good the show actually is."
Have you missed Emmerdale? "Yes, but I saw a lot of my friends from work while I was off so I've kept in touch with what's been happening. A year is a long time, but it's just flown past for me. I haven't missed learning lines as I've really enjoyed having the free time. But I'm getting into the swing of things again. I used to learn all my lines the night before, but I won't do that now. I'm trying to learn lines at work so that I'm not always doing it at home in the evenings."
And how do you feel now you're back? "I love my time at Emmerdale because there's always something interesting going on with Debbie. I wouldn't have looked forward to coming back as much if Debbie was a boring character."
Being a mum to two young children while working at the same time must be exhausting… "I'm OK. I'm the same as any other mum who's getting up in the middle of the night and then having to do the school run. We live quite a distance from Buster's school, so we have to leave by 8am, and trying to get the two of them out of the house is pretty stressful. Fortunately, Matthew's cancer storyline came when the baby wasn't sleeping, so it actually helped him look knackered for the role! It got to a point where we didn't even notice him looking tired because it became so normal for him."
Do you have any wedding plans? "You're joking! I'm the most laid-back person when it comes to things like that. I haven't even thought about it because I've been so busy with the baby. I haven't picked up a wedding magazine. No, we're really happy the way we are and it's not the most important thing at the moment. We're focusing on our children."
Do you feel differently about motherhood second time around? "I think I'm much more laid-back about it this time. I mean, recently Buster was dragging Bowie across the floor by his feet and the baby thought it was hilarious! I think if that had happened before I'd be like 'Arghhh, my God!' But now I'm just like 'Yeah, whatever.' In a lot of ways, it's so much easier the second time."
Does Matthew like having you back at work with him? "Our work lives are very, very separate and we don't see each other at Emmerdale in particular. I'm a recluse. I like to sit in my dressing room by myself. I never sit in the green room or anything like that because I'm always learning lines or chatting to people. Matthew's much more sociable and will sit with everyone."
Do you want more children? "I'm told the jump from two to three feels even bigger. At the moment, I'm plodding along with two and everything is fine. With Buster, it's like having five kids as he's got so much energy. We're thrilled to have Bowie.
"Buster was so desperate to have a brother, I think he'd have been heartbroken if we'd had a girl. He looks at Bowie and says, 'I can't believe I've got a brother!' As for the future, I'd never say never when it comes to having another baby."
Emmerdale, ITV
Get the latest updates, reviews and unmissable series to watch and more!
Thank you for signing up to Whattowatch. You will receive a verification email shortly.
There was a problem. Please refresh the page and try again.