Emmerdale's Charlotte Bellamy: 'Laurel is torn, but looking after Ashley has become unbearable'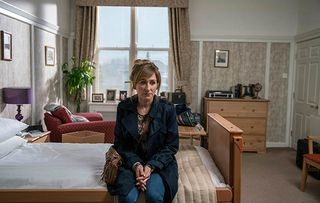 Laurel can't look after Ashley any more - he needs full-time care in a home. But will such a move send recovering alcoholic Laurel back to the booze in Emmerdale?
Unable to care for Ashley at home any longer, Laurel moves him to a care home in Emmerdale.
"Laurel feels as if she is giving up on Ashley," Charlotte Bellamy tells Soaplife. "She is torn, but looking after Ashley has become unbearable and she just can't do it any more. She has got to prioritise herself and her children. Her dad has been gently trying to push her to do this and she realises that Ashley is now a danger to himself, her and the children. It is obvious now that he needs professional care."
Has she talked about this with? "She has, but he goes round in circles and can't remember. She has gone over it again and again, almost for herself really. It's no use as he doesn't remember any of it. He doesn't understand and it's awful. Packing up his stuff reminds her of the old Ashley who was so capable and caring. It's hard to believe that he has become this person who is almost like a child."
What happens on Ashley's last day at home? "It is such a big day for the family as they know that Ashley won't be coming home – there is only one direction this is heading in. They want to make it a bit of an occasion for their own sakes as Ashley isn't really aware of what is going on. At one point, he gets confused, thinks he is being thrown out of his home and lashes out."
How does Laurel cope with that? "It is so tough. It makes you realise how hard it is for carers. After dinner, you see Ashley and Laurel go to bed and you realise what she has had to deal with every night. They are sleeping together for the last time in their bed and he turns the light back on and thinks he is going back to work."
What is it like when she drops him off at the home? "The staff are very good at helping them and Ashley himself is unaware of the enormity of the situation. It is harder for Laurel who has to leave him there."
Were these scenes tough to film? "Yes, it gets harder as Ashley gets worse. John [Middleton, who plays Ashley] is now playing someone who is not making sense any more. The character of Ashley is diminishing before our eyes. It is tough because I know he is going to be leaving soon."
Where does Laurel go from here? "There is a lot to come that is quite shocking. Hopefully, her survival instincts will get her through this."
Emmerdale, ITV
Get the What to Watch Newsletter
The latest updates, reviews and unmissable series to watch and more!