Danny Miller on Aaron's rape revelation: 'It was horrible, but one of the best days I've had at Emmerdale'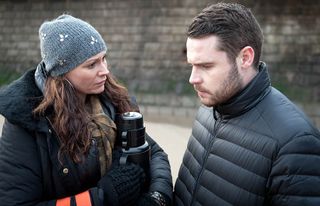 Chas takes Aaron on a nostalgic trip to the seaside, where he stuns her when he tells her Gordon raped him, Emmerdale's Danny Mille (opens in new tab)r reveals to Soaplife…
Why has Aaron kept this secret for so long?
"Out of embarrassment. He's been a victim and, from the research I have done, people like him feel they're being judged. The minute Aaron admits he was raped, everything changes. He doesn't want people to feel sorry for him and he can't stand being in the spotlight."
Why does he tell Chas?
"He needs to tell her because Gordon's sniffing around and Aaron feels she has to know the kind of person she's dealing with. He can't trust that his mum is safe with Gordon [Gary Mavers (opens in new tab)]. Aaron knows Chas is going to be devastated by the truth, but Robert [Ryan Hawley (opens in new tab)] knows so there's a chance it could get out. He needs it to come from him. He knows if he doesn't tell her now, he never will. There's no big build up. He just comes out with it."
What was it like filming that scene?
"It was horrible. Lucy [Pargeter (opens in new tab), who plays Chas] didn't want to rehearse. She wanted to hear it straight from me, so that the raw emotion was still there. It was so intense, but it was one of the best days I've had at Emmerdale."
How does Chas react?
"She's utterly shocked. This is a person she had a child with and she thought she knew. Chas realises Aaron's telling the truth as she knows he's not a liar."
Is Aaron pleased that he has confided in Chas?
"Yes, he has a close connection to Chas and all he needs now is to have her on board."
What do you think of the storyline?
"It's really clever. It's telling the story of why Aaron is the way he is, why he's so troubled. He doesn't let people in or trust anybody."
Why hasn't Aaron decked Gordon?
"Aaron's the sort of person who'd usually throw a punch rather than talk to someone. But he can't defend himself against Gordon because he's scared of him. For all he knows, Gordon's come back to finish him off so he doesn't tell anybody."
Will he report Gordon to the police?
"He doesn't want to because he doesn't think they'll believe him."
How do you think viewers will react to this story?
"I hope they see that it's not a way of creating more drama for Aaron, but a new beginning. We've worked really hard on the story and I hope it creates awareness and gets a positive reaction."
Emmerdale (opens in new tab), ITV
Get the latest updates, reviews and unmissable series to watch and more!
Thank you for signing up to Whattowatch. You will receive a verification email shortly.
There was a problem. Please refresh the page and try again.