Danny Miller on the Robron 2018 Wedding: 'It'd be nice to have a big happy gay wedding where nothing goes wrong!'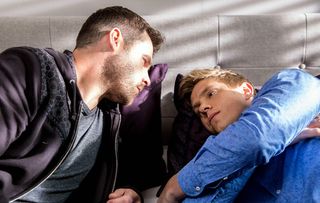 Danny Miller talks Robron and his hopes for their big day
They may not be together at Christmas, but Emmerdale's Robert Sugden and Aaron Dingle, aka Robron, are destined for a reunion next year – followed by a wedding! The soap's boss, Iain MacLeod, has revealed that the much-loved pair, nicknamed "Robron" by fans, will officially tie the knot in the Summer of 2018.
Danny Miller, who plays Aaron, gives us his thoughts on the much anticipated nuptials for Robron, and reveals his dream wedding scenario for the fictional on/off lovers...
What's happening in Emmerdale? See the latest storylines
Robert and Aaron, aka Robron, had an unofficial wedding in February. Do you think it was inevitable that they didn't get their happy ever after?
Danny Miller: "I do, because you've got to bear in mind that Robert is a cheater and a liar, and it's only when he's with Aaron that he becomes likeable. I think it would've been unfair to Robert - and to Ryan as an actor - if the character completely changed. If Robert hadn't cheated with Rebecca, he'd have done it with somebody else."
Did you always know how short their happy ever after was going to be?
DM: "No. We were told that it wasn't going to go perfectly; we knew that Robert was going to end up sleeping with Rebecca and the baby was going to happen, but I think a number of things happened, Lucy (Pargeter, who plays Chas) went off for maternity leave and Isobel (Steele, who plays Liv) went to do her exams and I think everything had to speed up to make sure it fitted in. So I don't think they'd planned for it to be as quick as it happened, but it was always going to happen at some point."
We know that Robron will get married next Summer. Have you been told anything more about the big day?
DM: "Iain has promised that it'll be a bigger do than in The Woolpack, so me and Ryan are gagging for it to happen in Vegas. But Aaron's got a criminal record, so that would be difficult. Maybe Spain would work. I think we need a big wedding, because last time it was a last gasp spontaneous thing for Robert to do before Aaron went to prison. It'd be nice to have a big happy gay wedding where nothing goes wrong and no-one bursts in when they're saying the vows, but we'll see what happens.
What do you think Robert and Aaron need to do to make things work, second time?
DM: "I think top of the list is Robert being faithful! Aaron has a lot of morals and he is very loyal and honest, and Robert needs to be a little bit more like that himself. It's about Robert being honest, and not lying to him. They can be the best of mates again very easily if Robert can be straight with Aaron."
Will they be changing their surnames to Dingle-Sugden?
DM: "I don't know; that's a good question! I'm definitely not changing my name; I begged to be a Dingle for years!"
Alison Slade
Get the What to Watch Newsletter
The latest updates, reviews and unmissable series to watch and more!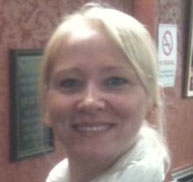 Alison Slade has over 20 years of experience as a TV journalist and has spent the vast majority of that time as Soap Editor of TV Times magazine.
She is passionate about the ability of soaps to change the world by presenting important, issue-based stories about real people in a relatable way.
There are few soap actors that she hasn't interviewed over the years, and her expertise in the genre means she has been called upon as a judge numerous times for The British Soap Awards and the BAFTA TV Awards.
When she is not writing about soaps, watching soaps, or interviewing people who are in soaps, she loves going to the theatre, taking a long walk or pottering about at home, obsessing over Farrow and Ball paint.