Emmerdale's deeply troubled Ross Barton turns to cocaine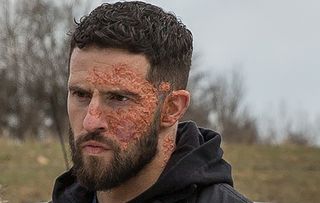 Will the troubled Barton boy get addicted?
Emmerdale kicked off a new chapter for bad boy Ross Barton tonight, when the troubled mechanic took cocaine.
Ross was offered the drug by a contact, Gaz, whom he sold some stolen vintage cars to – previously owned by Lawrence White. As the pair did "business" in Moira's barn, Ross asked to be paid in cash, prompting Gaz to suggest that he might prefer an "alternative form of payment."
Ross rejected the offer, but when he returned to the Barton residence with an envelope of cash, he secretly took out a bag of cocaine from his pocket.
And later, it was clear he'd succumbed to the white powder as he did a tell-tale sniff, and Pete and Rhona then commented that he'd got his old "sparkle" back.
"You're going to be seeing a lot more of that sparkle," quipped Ross, "I reckon the old Ross is back!"
This isn't the first time Ross has sought comfort in drugs. Earlier in the year, he became addicted to prescription painkillers. The mechanic had been prescribed the pills after having a skin graft on his face in the wake of his horrific acid attack.
Ross managed to kick the habit, but his mood has taken a battering in recent weeks following the disappearance of Rebecca White. The blonde went AWOL shortly after they'd got together, leaving Ross devastated that she'd "dumped" him.
Little does Ross realise that Rebecca is chained up in a shack by nephew Lachlan, having caught him trying to kill Liv and Robert. Lachlan, who has confessed to Rebecca that he was responsible for the deaths of Chrissie, Lawrence and Gerry, has convinced Ross and the rest of the villagers that his aunt is in Wales. Can Rebecca manage to escape and set Ross straight, before he spirals out of control?
Get the latest updates, reviews and unmissable series to watch and more!
Thank you for signing up to Whattowatch. You will receive a verification email shortly.
There was a problem. Please refresh the page and try again.