A drunk and reckless Moira runs Pete over in Emmerdale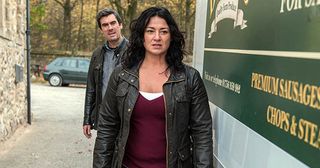 (Image credit: Andrew Boyce)
Moira's behaviour spirals out of control when she hits the booze to bury her grief...
Friends and family start to worry about Moira as she spends more and more time drinking.
The grieving mum, whose world fell apart after the sudden death of her daughter Holly from a drugs overdose, is on a path of self destruction.
Pete, her nephew, begs her to try and sort herself out, knowing she has an important business meeting to attend, but Moira is beyond caring and later on, in a hungover state, she and Pete end up kissing.
But calamity awaits. When a drunk Moira later gets behind the wheel of her van she accidentally ploughs into Pete who's acted quickly to push Jacob out of the vehicle's path.
As Pete lies unconscious in the road, Cain rushes to the scene and as neighbours gather round, Cain covers for Moira and pretends he was driving.
Is Pete going to be okay and how will Moira cope following this latest shameful disaster?
Cain arrives at the farm to see a broken Moira smashing everything up. Can he calm her down?
Earlier on, as concern about Moira's wellbeing mounts, Pete goes to visit her. He reminds her she's got an important business meeting about the sale of the farm that she needs to be on top of.
However a hungover Moira misses the start of the meeting and fails to impress when she rolls up in a state. Later on Pete tries to console her.
As the pair talk, an annoyed Pete softens towards Moira and the pair end up kissing.
But later on, Moira's back on the booze. She goes to the Woolpack where she starts necking drinks before heading towards her van.
But later on, Moira's back on the booze. She goes to the Woolpack where she starts necking drinks before heading towards her van.
Cain tries to reason with her, telling her she's in no fit state to drive.
But his reckless ex ignores him.
Cain pleads with Moira to get out of the van or to let him take her home.
But Moira won't listen and starts up the engine.
But disaster strikes, when Jacob, who's wearing headphones steps out into the path of the vehicle.
Pete rushes to push Jacob out of the way but ends up taking the full force of the van.
Moira's devastated as she gets out and sees what's happened and Emma races to the scene to see her son lying motionless on the road.
Thinking on his feet, Cain covers for Moira and tells everyone he was the one driving.
As an unconscious Pete is whisked to hospital, everyone waits anxiously for any updates. Will he be ok?
Soon the police are on the scene. As they start asking questions will Cain continue to cover for Moira?
Finn tries to comfort his mum but Emma is in a state. She's only recently lost her husband James, thanks to the fact she shoved him from a bridge. Is her son Pete about to die too?
Meanwhile there's fresh panic when Jacob suddenly collapses. Tracy and Leyla try to get him urgent medical attention.
Jacob is taken away by doctors but what's happened to the teen?
Can Cain help get Moira through her grief and is there a glimmer of hope that these two could rekindle their relationship? Watch Emmerdale on ITV from Monday 19th December.
Get the latest updates, reviews and unmissable series to watch and more!
Thank you for signing up to Whattowatch. You will receive a verification email shortly.
There was a problem. Please refresh the page and try again.