Emmerdale star Emily Head announced she was going to act when she was just three-years-old!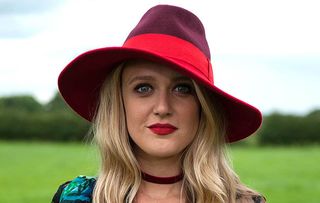 (Image credit: Andrew Boyce)
Acting runs in Emily Head's famous family and now she's loving life playing Rebecca White in Emmerdale, she told Soaplife…
Acting is very much a family affair for Emily Head, who plays the unfortunate Rebecca White in Emmerdale. Her dad, Antony Head, was the famous Gold Blend man in the 1970s and starred in ITV's Girlfriends with Emily's sister, Daisy…
What's the story?
"There's always somebody telling a story about acting when we sit around the table," Emily told Soaplife. "We all share advice and we help each other run through our lines. It's great having family members who really understand the job."
What's happening in Emmerdale? See the latest soap storylines
Emily Head's interview with Soaplife about her famous family, love of knitting, and life on Emmerdale…
Soaplife: Did you always want to act, Emily?
Emily Head: "Yes. I said to my Godmother when I was about three that I had a secret to tell her. The secret was that I was going to be an actress and she replied 'Darling, that's not a secret to anyone.' My sister, Daisy, felt the same way. We grew up watching our dad act, so it never felt like an unattainable dream. It was just part of family life."
Emily Head with dad Anthony
S: Do you see much of Daisy?
EH: "We see each other as much as we can. We're very close. People are always telling us how much we look like each other, but we never see it. We've stood next to each other and looked in the mirror and just thought 'No, we're different.' I guess our mannerisms are quite similar."
S: Did you relocate when you joined Emmerdale?
EH: "Yes, I moved up from London to Leeds. I've settled in – I know how to drive to work without my sat nav now, which immediately makes you feel more at home. It's a completely different city to London."
S: Who do you hang out with from the cast?
EH: "A lot of the people who work at Emmerdale don't actually live in Leeds. There are only a select few of us and trying to pin the others down is difficult."
S: Do you share a flat?
EH: "No, I live on my own. That makes me a bit lazy where cooking is concerned. I'm a vegetarian and it's difficult when there's just one of you. It's a lot of effort to cook a meal and then eat it by yourself."
S: What do you do to unwind after work?
EH: "I love films. I go to the cinema a lot and watch films at home. I've also got into knitting. I taught myself how to do it after watching videos on You Tube. I started with a scarf and now I am halfway through a jumper."
S: The Emmerdale lot are forever running marathons and climbing mountains. Are you like that?
EH: "No. I went to a very sporty school where lots of people were into sport and team games, but I wasn't. I get bored too quickly. I do tend to walk everywhere though, so that is my exercise."
S: Are you enjoying your time at Emmerdale?
EH: Yes, I've been here for a year and a half now and I've had a wonderful time. It's a real community at Emmerdale. I've never worked on anything like this before. I've only ever done shorter dramas where seven weeks is the longest I've filmed.
S: What's it like working with a baby on set?
EH: "A baby girl plays Seb and she's extraordinary. I've always loved children, especially babies. I really enjoy playing a mum. Handling a baby comes naturally to me."
S: Would you like children of your own?
EH: "For sure, one day I would, but not right now."
S: How do you feel about turning 30 this year?
EH: "I'm excited about it. It's not until December, though, so I'm just getting used to being 29 at the moment. I'm not the sort of person who would feel panicked about turning 30. I'm not very good at planning parties, so I'm not sure what I'll do. The last 30th birthday we had here was Charley Webb and Matthew Wolfenden's wedding and I'll never beat that."
Emily Head with dad Anthony pic: Doug Peters/EMPICS Entertainment
Thank you for signing up to Whattowatch. You will receive a verification email shortly.
There was a problem. Please refresh the page and try again.